It was my 35th birthday Eve. We knew that on my actual birthday, there would be no time for celebration. We had church, yes, but also Grandma and Grandpa Pippy would be moving into town, and we would be moving them in.
So we decided that we would observe my birthday today!
I love to go out for breakfast! So we did! We went to Magelby's and ordered out bottomless french toast and pancakes.
| | |
| --- | --- |
| | |
| | |
| | Mirah a was bummed out when ONE piece of especially sticky pancake fell into her hair and made what looked like a spun sugar mess. |
| | |
| --- | --- |
| | |
| | After breakfast, we went to Baskin Robin's and got my birthday cake! It was a chocolate cake with a salted caramel ice cream. Karl was excited to request 35 exclamation points. Which they actually did. Which made me so happy, and only feel a LITTLE bit super old. |
We got home, and I had such an awful night's sleep I went upstairs and laid down. The next thing I knew, I was being ushered down stairs by Karl. I was met by Impa (Krysta) calling me adventurer. Insisting that I put on a new shirt, and a new hat. I was link! Impa was my guide.
Yes the Whitmores had created a Zelda, Breath of the wild scavenger hunt for me for my birthday.
My Iphone became my Sheikah Slate. They had made a sticker for my phone, that looked like the Shrika Slate symbol for me to put on my phone:
We jumped into the Geo Tracker, with the top off, and headed to Sharon Park. I got an image on my Sheikah Slate that showed me where I needed to go.
Sharon Park was the park we used to go to when Mirah was little, before Lucas was born. We would walk over when I was a manager at Legacy Apartments. We came here to go sledding and to fly kites. Tia and I used to walk the path here with the kids early in the morning.
Me enjoying my new hat, on our drive over.
We got to Sharon Park.
As I arrived to the place the image told me to go, just like in the game, there was a video flash:
It was a text to my phone, kind words and a memory of our times goneby. ALSO, this thumbnail is from my 28th birthday, when  I had a Pirate themed birthday:
http://akhite.blogspot.com/2011/06/28-is-grrreat.html
This of course made me very emotional, but there was still a task to do at the park.
I had to use my glider to get to my reward!
On my third trip, back, I was joined by this little guy.
These little Korok children greeted me!
As did this mysterious stranger. He was perhaps the old king of Hyrule waiting for an adventure to save the Kingdom.
He had a gift for me! A sword! Or…a KNIFE!
A Ben Blue bug out knife, from Bench made!
Also: I received a Divine Beast, and a bag to carry my treasures in.
When I got my gifts, my next clue arrived on my Sheikah Slate.
It was Paul Reams Park, where we used to do the F.F.U.F.R. (Fun Fun Underground Forest Race)  Karl also did his first and only Cyclo Cross race. We all have many fun memories there. We took family pictures here once. We took the girls here to play, we have fed the ducks, and biked by of the Provo River Trail many many times.
Krysta lead the way to the place where the picture was taken.
When we arrived at the park we went to the bridge that was on the image. A new video arrived on my Sheikah Slate:
(This thumbnail is from Karen's 6th Birthday party: http://akhite.blogspot.com/2013/12/karens-birthday.html)
A beautiful birthday message from my first daughter, Karen.
This of course made me cry, then I noticed yellow flowers hanging from the trees.
I followed increasing numbers of yellow flowers hanging from the trees on the path. JUST like a Link does in Breath of the wild.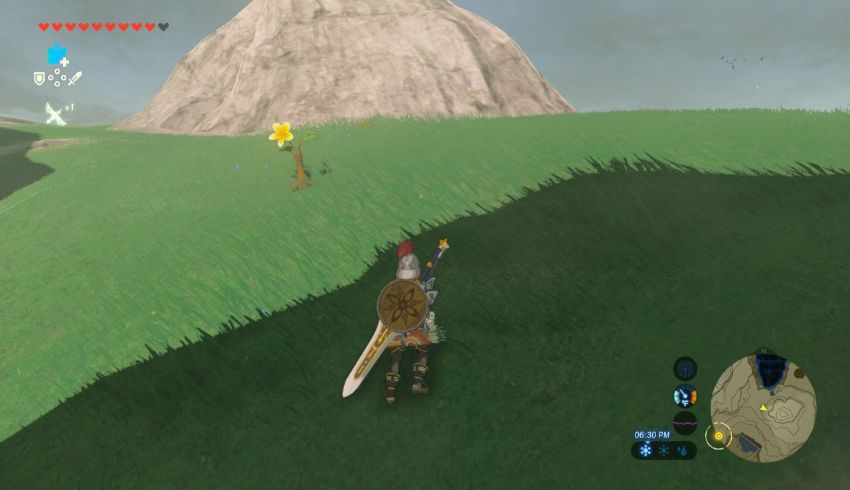 The coolest part, I used my new knife to cut the flowers out of the tree, and my new bag to collect them. I had to cross the stream to get to the final white flower.
When I got there, I got my next Divine Beast, a Lizard.
Next an image came, of the boardwalk at Bicentennial park.
We love this Provo park. We played disc golf there. We had a Labor Day Picnic there once with The Reddochs. My favorite memory there, was with Brandon and Leah and the three little Racoons that they were fostering. The thing that made it most memorable was it was that time of year that the cotton wood trees that fill the park drop their cotton. So there was white fluff EVERYWHERE. We were all covered.
Krysta lead the way to the boardwalk.
When we arrived at the boardwalk, another video memory arrived on my Sheikah Slate:
Not a message from my kids per se, but a sweet memory from a few weeks ago before school got out of the kids dancing and laughing to the demo of the piano.
When the video had finished, Krysta handed me a lighter, and a long metal sparkler. My task? To light the way! Follow the many many tea candles as we went to follow the path and find my next prize.
As I followed the candles, lighting them, a little Korok Spirit met me and I followed him to my next destination.
They gave me my next Divine Beast. A little Bird.
And then the mom in me totally took over and I had to take a million pictures of Me with my amazing kids and husband.
My next clue arrived. It was a picture of Jaquin Park, the park in our old Neighbor hood.
This park is probably the one that holds some of the most tender of all of our memories. It was built while we lived in the neighborhood. It used to be an old house that was knocked down, the trees are from that old era. It was here Karen first road a bike with out training wheels. It was here we had our first Pie Day picnic. It was here I took Judah and Asher to play while their parents when house hunting, soon before I was pregnant with Mirah. It was here where we would come and play with Karen when her mom let me babysit. It was here we came after we all moved to play countless times. I love this little park.
When I arrived at the park, another video arrived on my Slate:

(This Thumbnail is from Krysta's birthday several years ago: http://akhite.blogspot.com/2010/03/krystas-birthday.html )
This of course also made me predictably emotional, and before I could get myself under control I was ushered over to the south east corner of the park. Where another little Korok spirit was waiting for me.
My task, was to use my new "sword" knife to sharpen my arrows and pop the balloons.
Which I did. Well, I shot the arrows, and missed a million times. BUT when I grabbed a balloon, then poked it with the arrow, it popped.
I got my final Divine Beast, an Elephant.
My final picture clue arrived on my Sheikah Slate:
I knew that one very very well.
Out home of the past nearly 4 year. The home that I found out I was pregnant with my lovey little boy Lucas in, the day after we had moved in. The home where we first sent Mirah to school from. The home where we have had so many parties, and gatherings. Our wonderful home.
BUT before we headed over, Krysta, I mean, IMPA and I decied to make a little detour.
We stopped at Good Thyme, for some delicious lemonade and cookies.
When I arrived at the house, my final video memory arrived on my Sheikah Slate:
The thumbnail used is of one of us above, from a hike we took on his 22nd birthday, a few weeks before we got married.
The images below are of my crying and listening to that message.
Ugh, I have to say, I wished I had been wearing different pants this day.
When I got inside the house, I gave the Old Man all of my divine beasts, and was instructed to wait on the stairs for a moment.
I was told to draw my sword, and defeat Calamity Ganon!
Which I happily did.
Then I gave all of the Korok spirits a big kiss.
And we had some cake!!!
To draw back the veil here for a minute. It's October 7, 2018 when I am finally finishing this blog. It has taken me a long time to be emotionally prepared enough to complete this blog. Mostly because I feel so totally overwhelmed with the love shown and the time spent giving it to me. I feel unable to say how deeply I am touched by the love of my family and dear friends. I feel undeserving of these gestures. But they came to be anyway, from kind, creative, loving friends who I try to deserve. Many many thanks go to them for everything they do for me. I love you all so very much.
To Zac, the master mind behind this whole affair. Thank you for spending nights playing the game and researching with Graham, you got all the details spot on. I feel your love and I can't thank you enough for this.
To Krysta, my motra, my eternal sister, thank you for making this happen. Your finger prints, your talent, your creativity and skill are everywhere in this. Thank you. What would I do with out you? I love you forever.
Karen, you are so lovely and kind, you were a helper and creator and your mom and dad couldn't have done it with out you. Thank you for being my unofficial first daughter. I love you so much.
Karl, I see you in this as well, and I know you worked so hard to make sure I got this special experience. Thank you for going above and beyond for me. I thank God everyday that you are my eternal companion. You are the best of men. The best friend, husband, Father, and companion a girl could ask for.
Mirah and Lucas, my little babies, who are more than I could ever have dreamed of, your very existence is a daily gift to me. I love you. Thanks for participating and cooperating with the many funny things asked of you on that day.
One last thing before I end. Adam and Chelsea came to hangout, and have some cake. I DID cut myself while playing with my new knife the day I got it…just FYI.
A day that will never be forgotten.