Happy Halloween!!!
It is one of our most favorite days of the year. We go from morning until late night. This year was NO exception.
Mirah was dressed and ready for school…my Princess Leia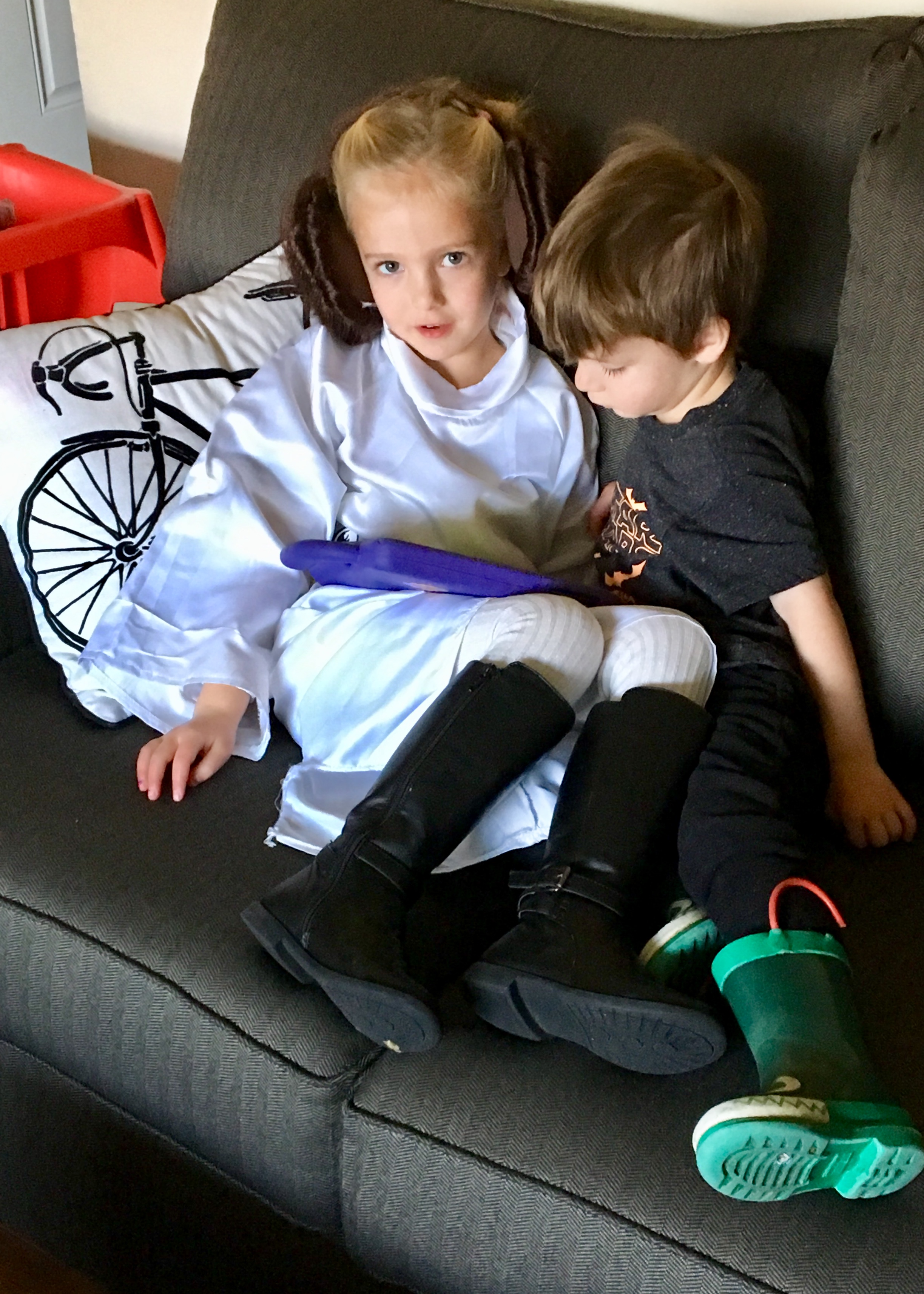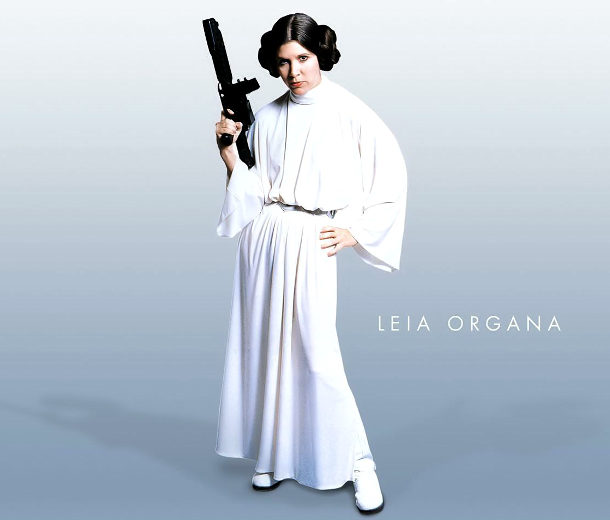 Time for a morning green door photo shoot!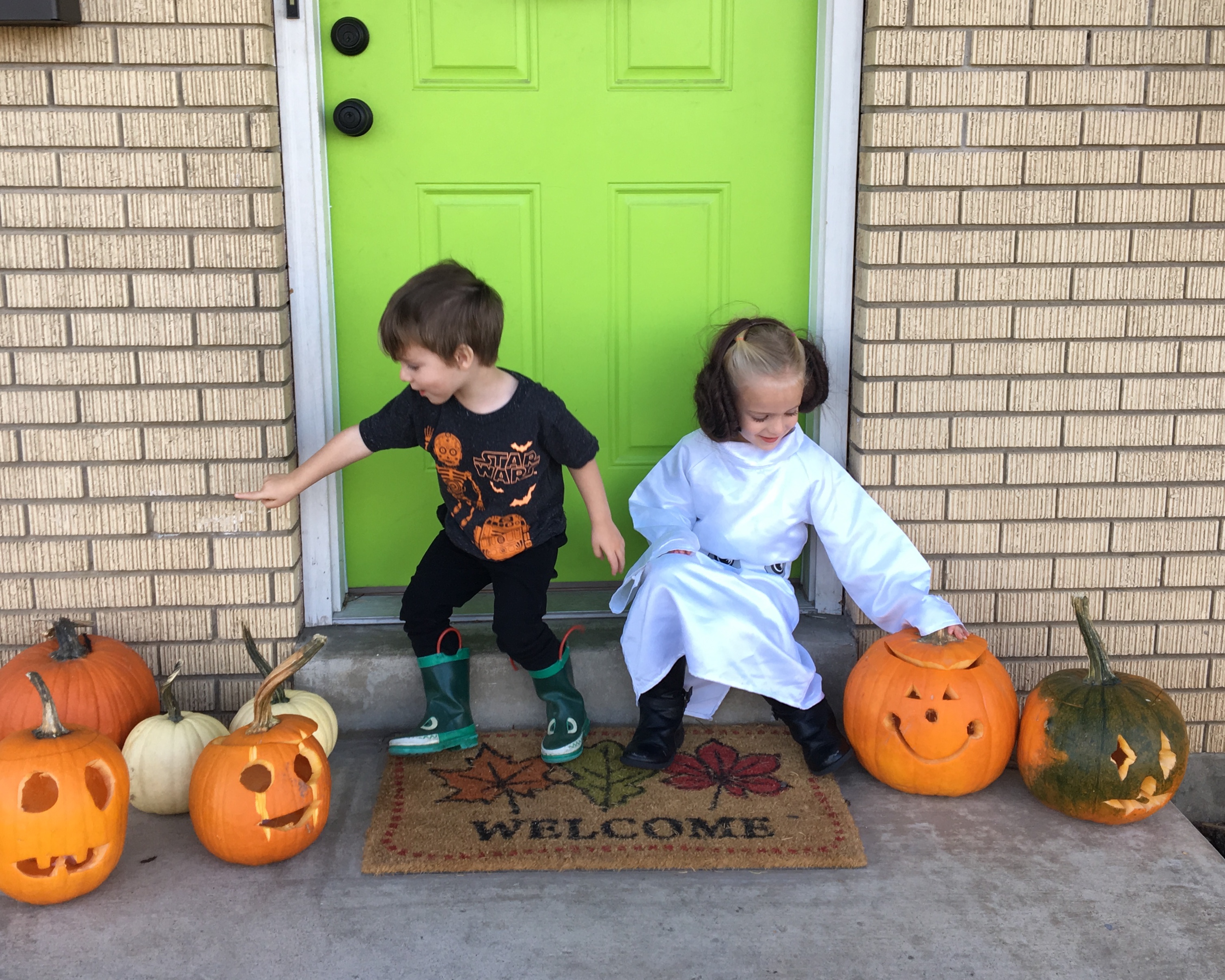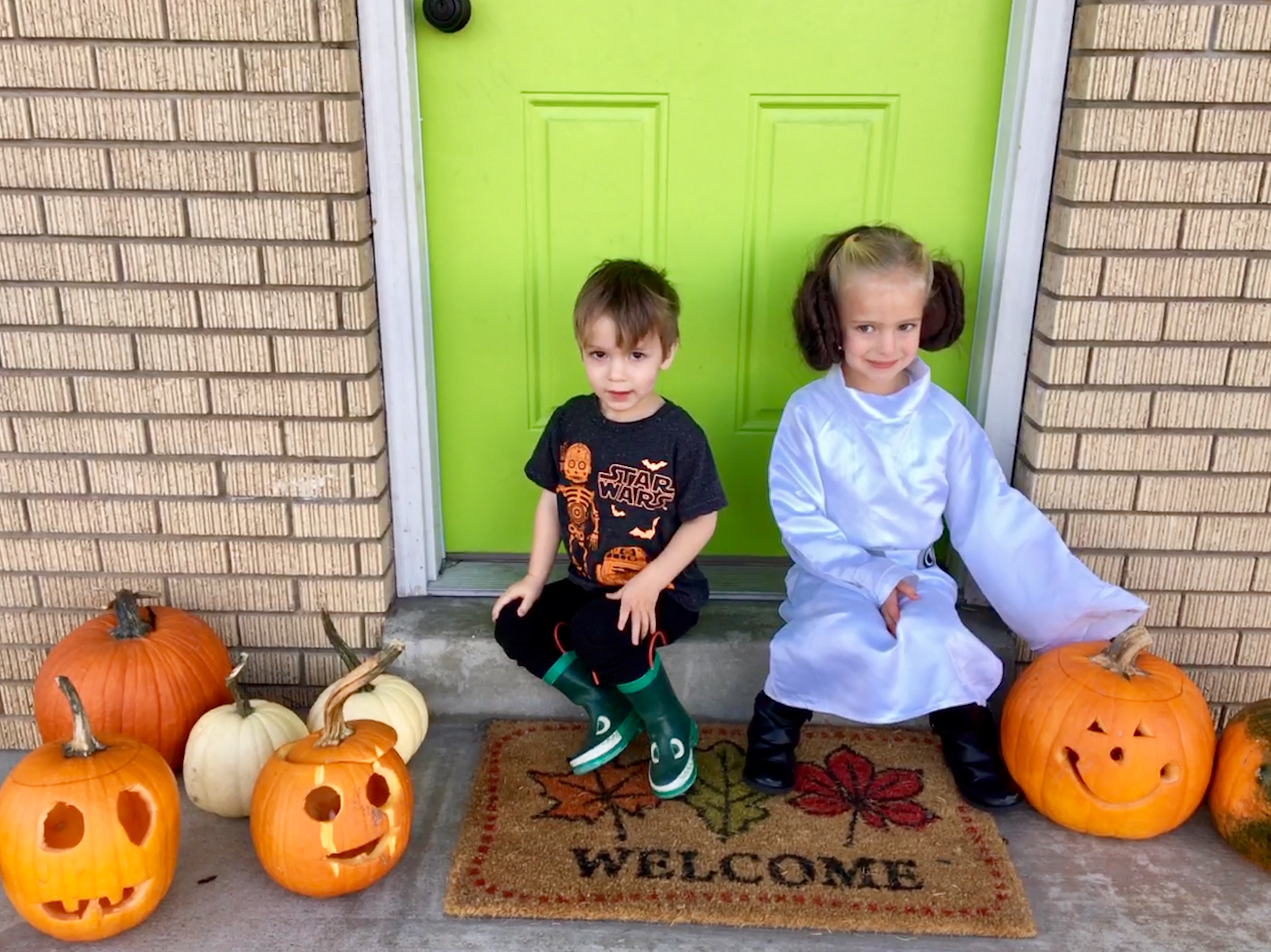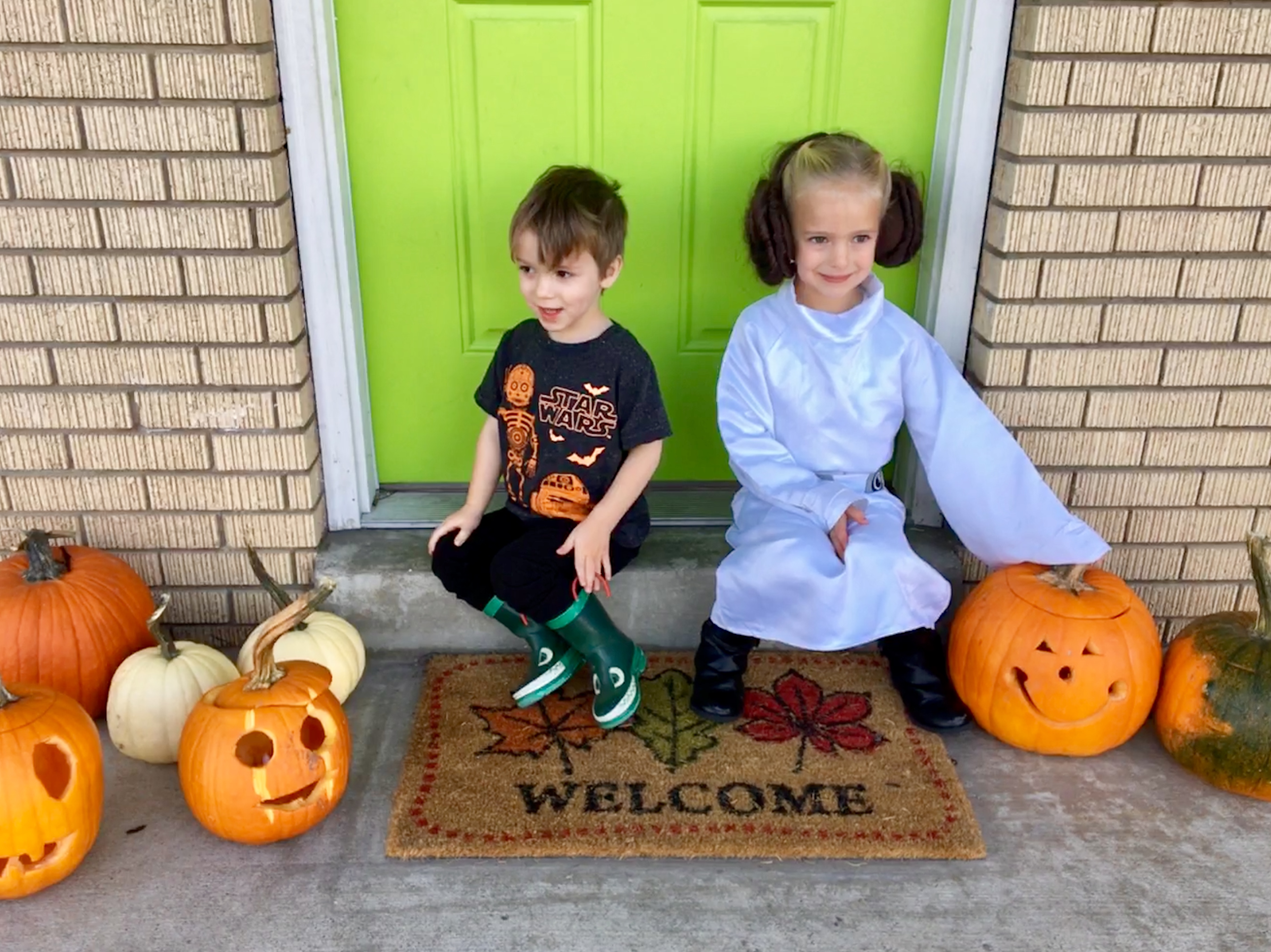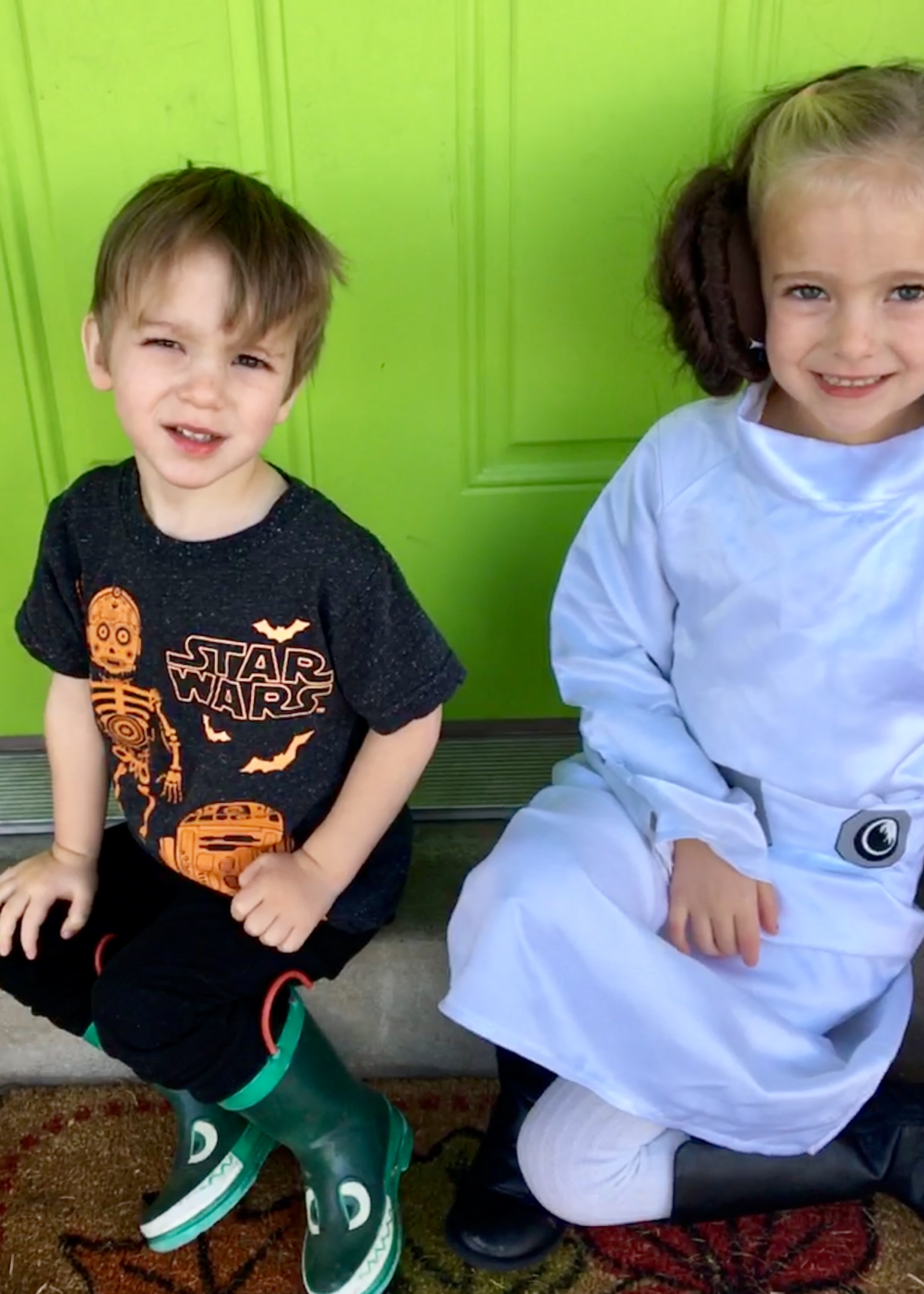 Mirah's school had a school wide costume parade and parents were invited to attend as see all the kids in their costumes!
Lucas brought his "back pack" full of cars stuff, and he seemed great at first.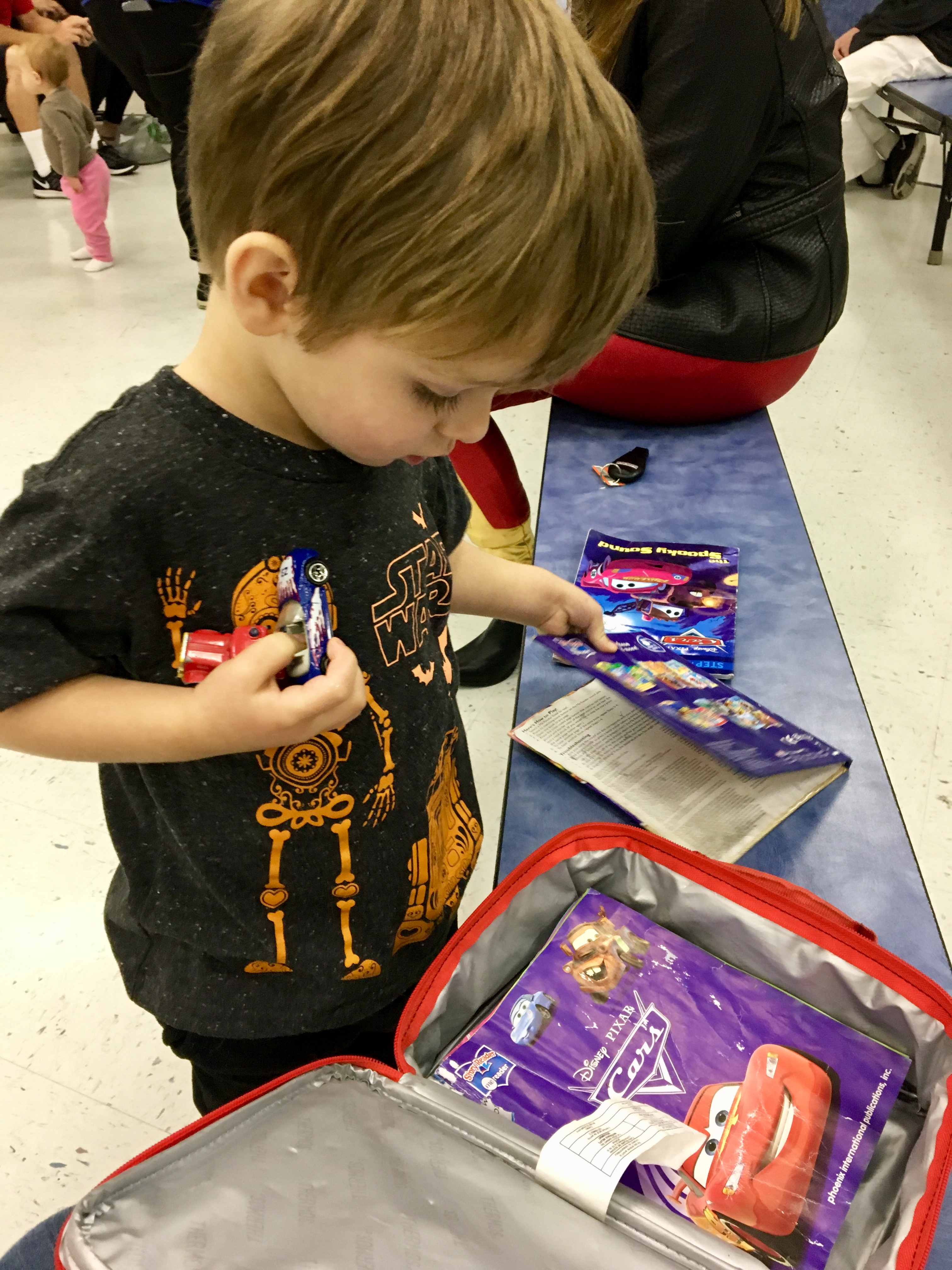 Then he got all packed up, and had a little run.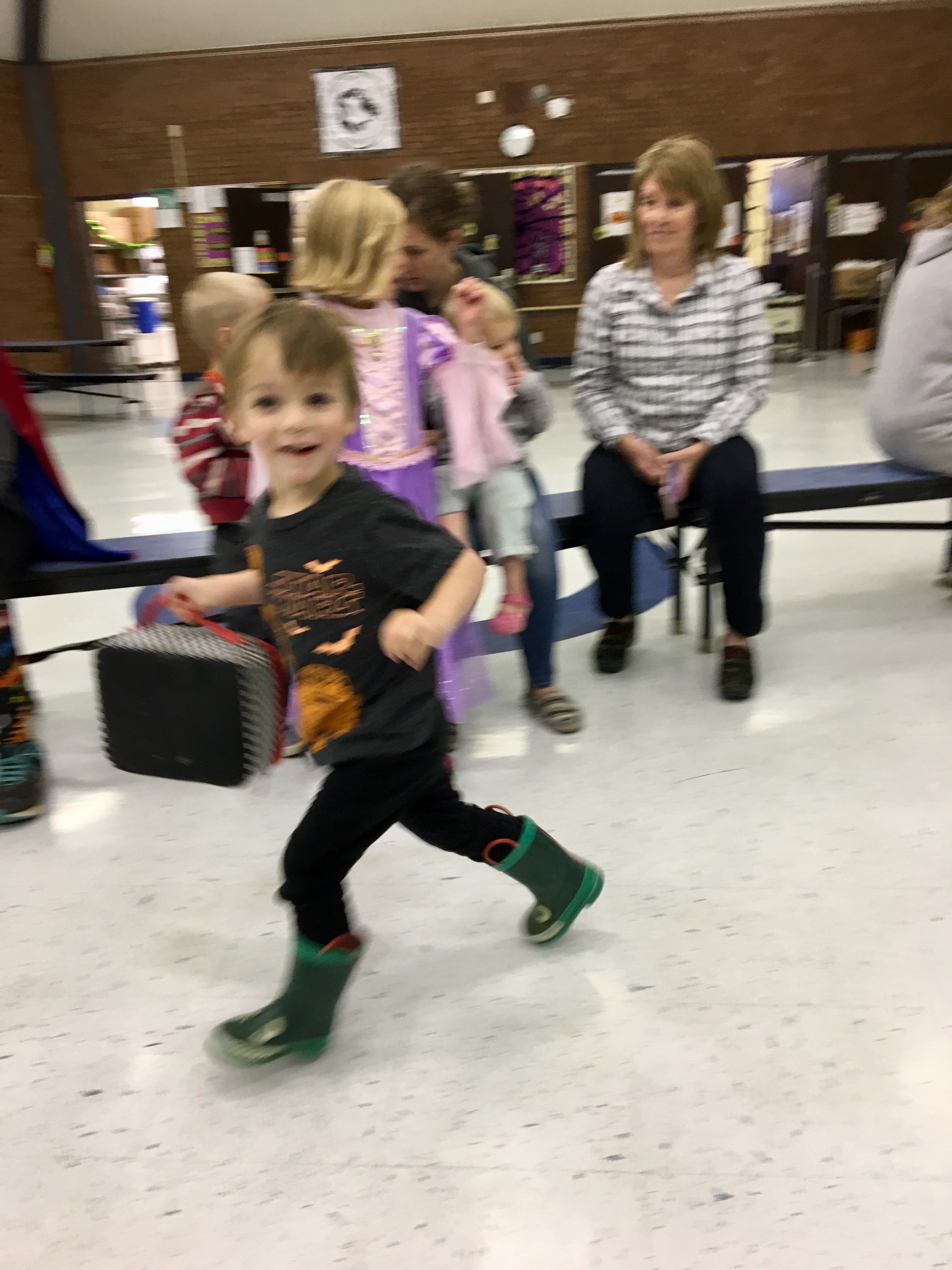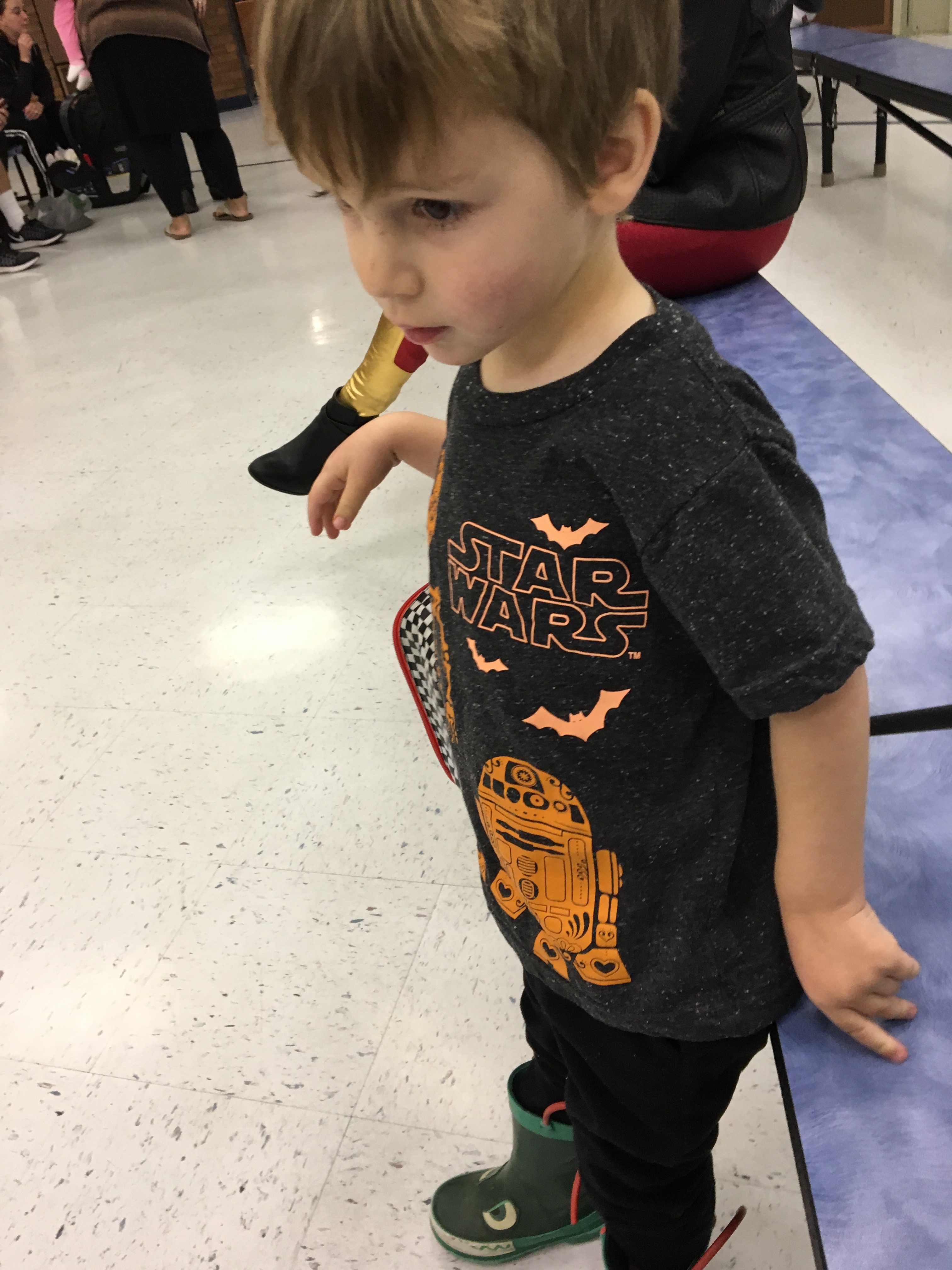 Look at him go!
I was able to get him to give me a little snuggle.
But waiting is really had on a little boy.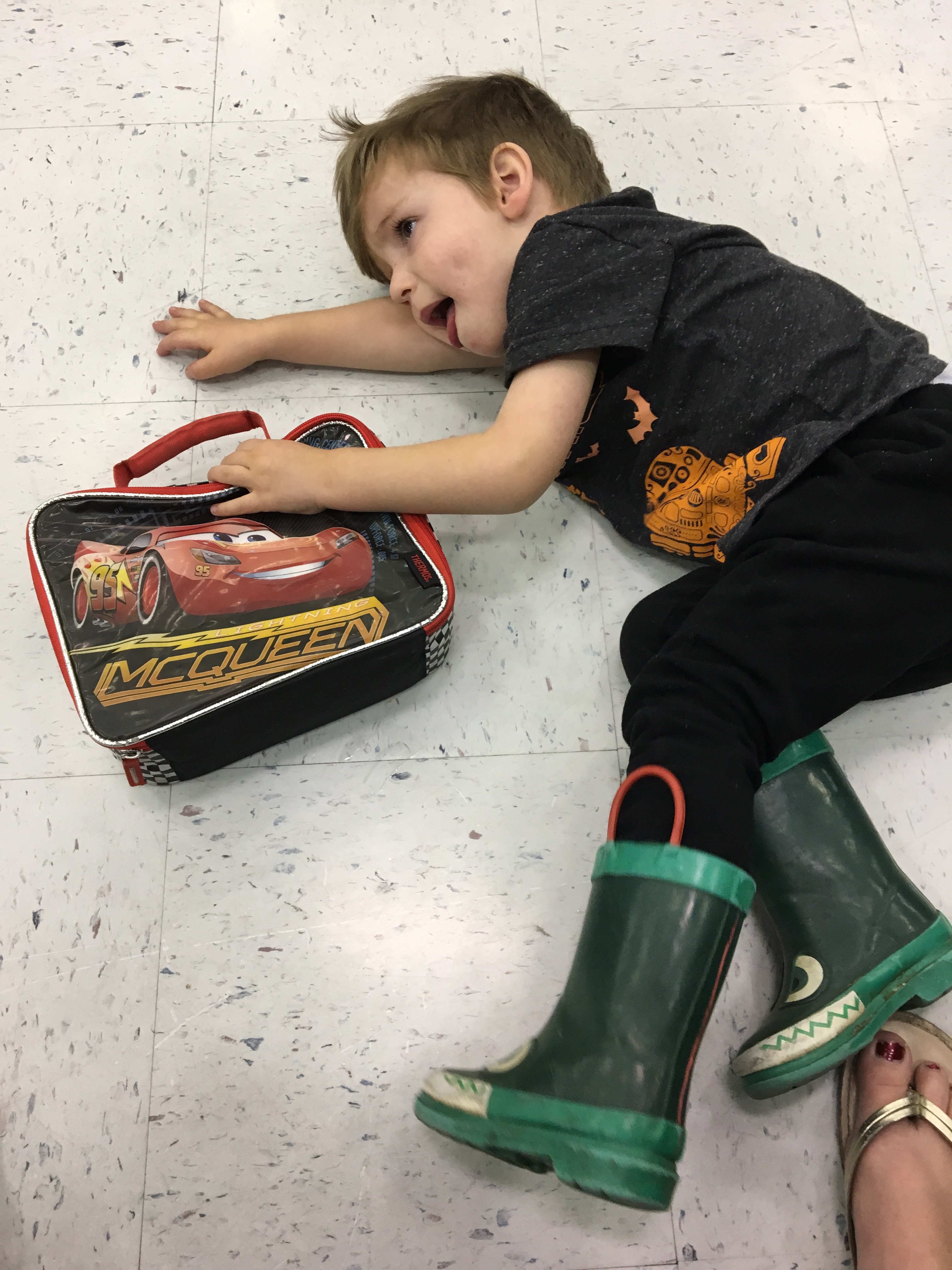 But the parade began, and he was set.
The older kids started, and we even recognized some of our neighbors.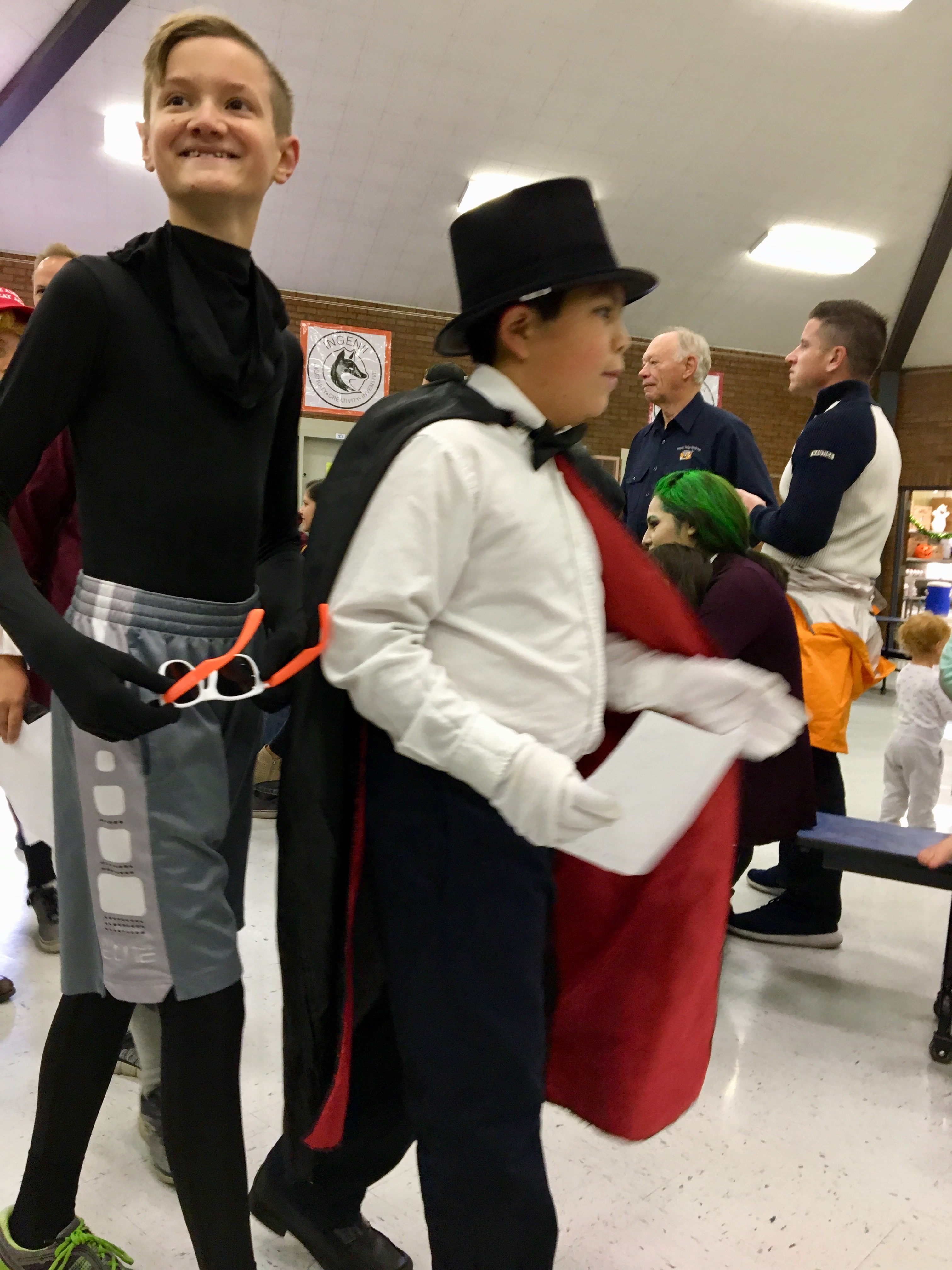 This kid is either hilarious, or a total dick. Either way, it is way way way too soon for me. Like way too soon. Also, where did he get a "Make America Great Again" hat. I wanted to shove him over.
Our principle, Mr. Campbell, in a Campbell's soup can!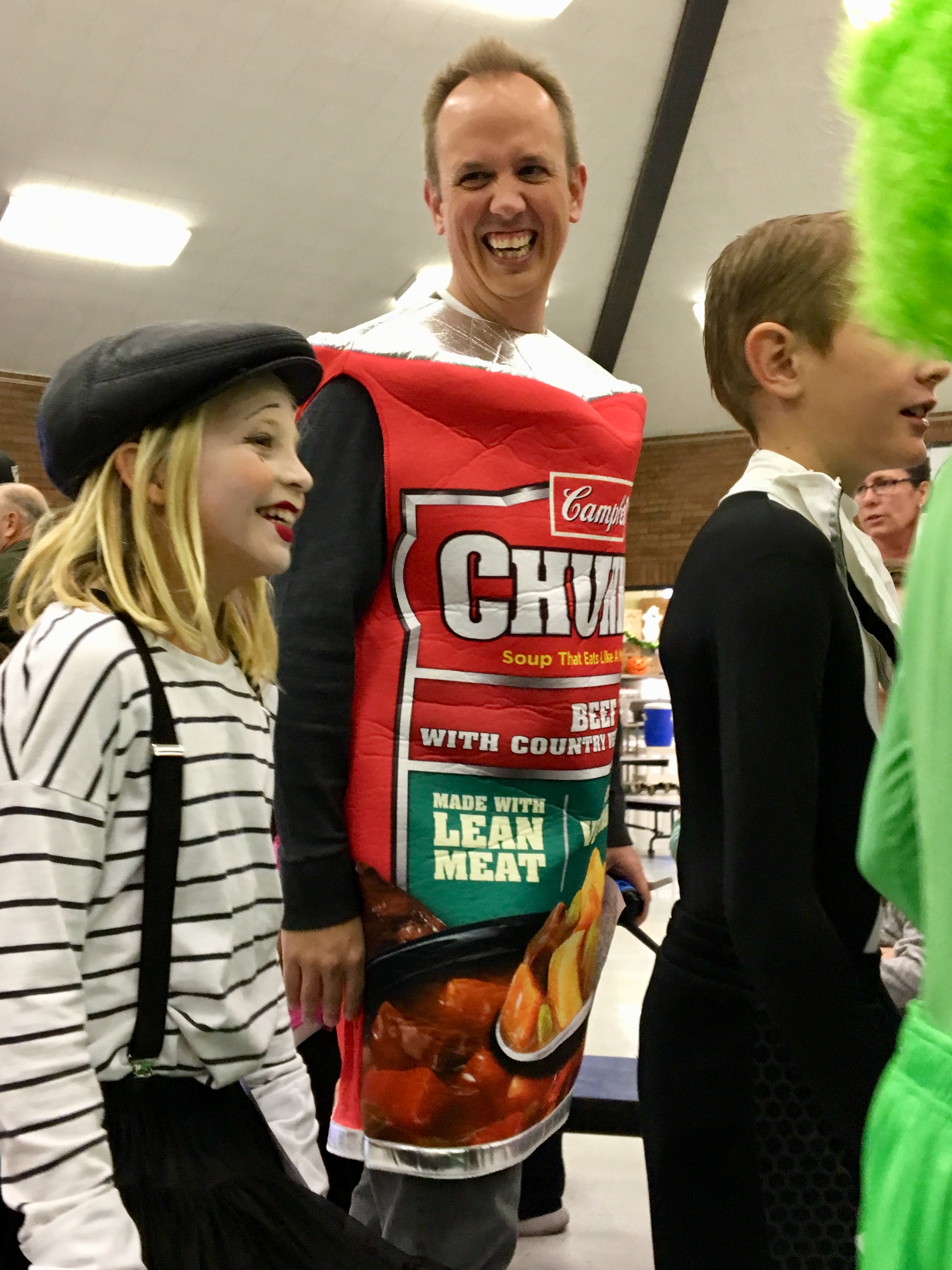 Mr. Wyatt. The 6th grade English half of the Chinese Immersion class. I loved his costume.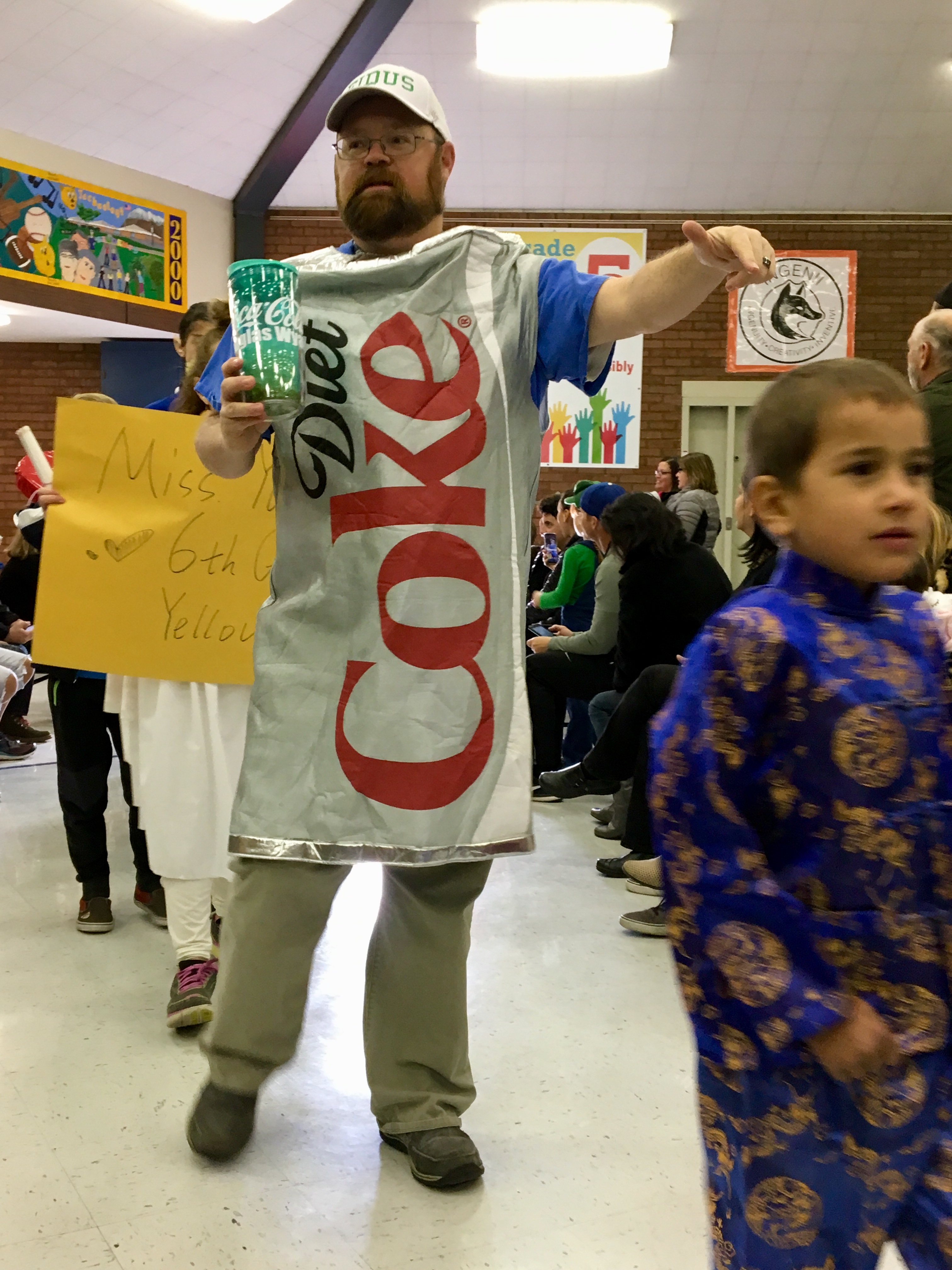 Turns out he is always a pretty funny guy. This is his faculty picture from the school's website:
Another friend from the ward, and her family in the background.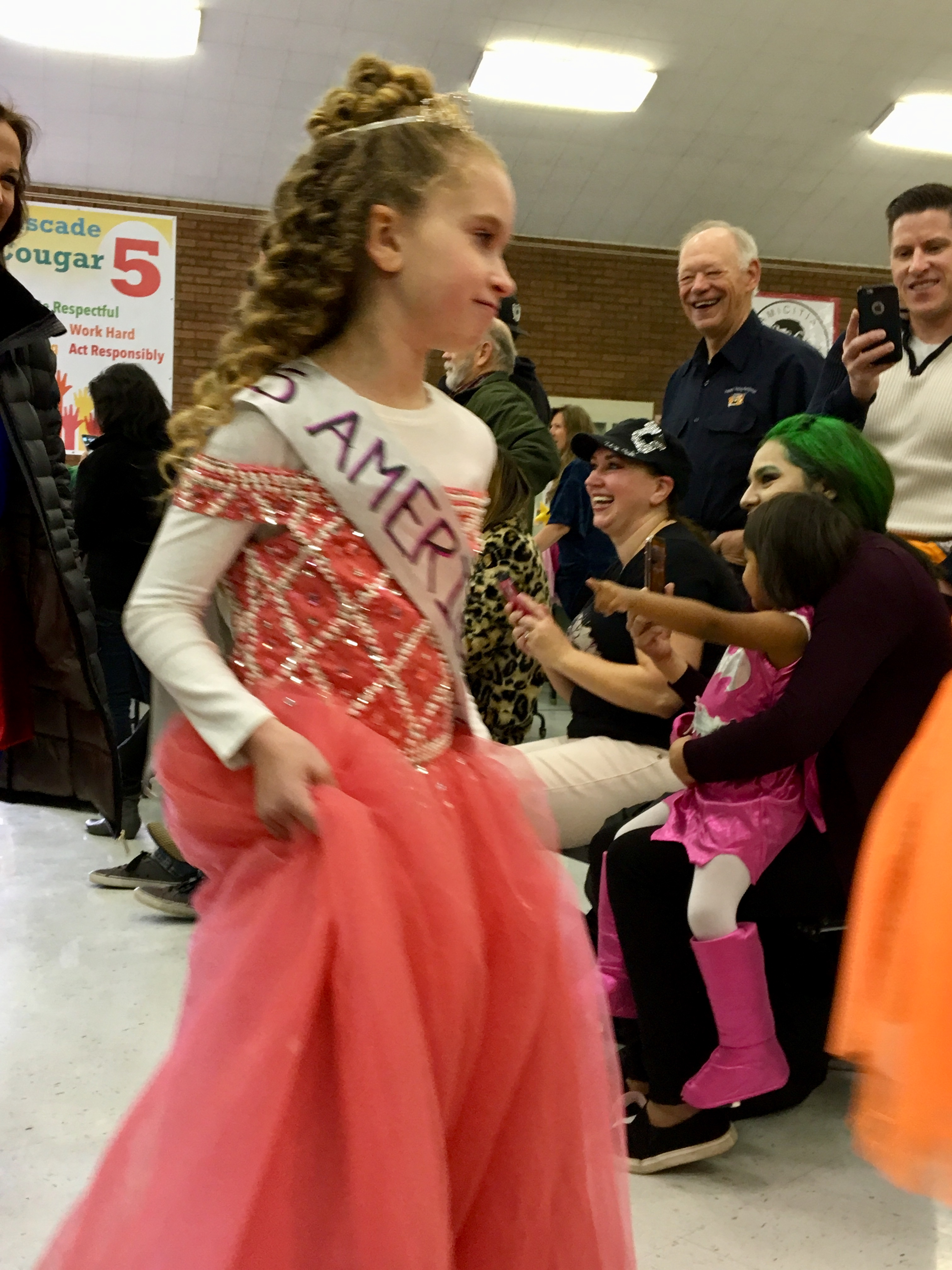 Then came Mrs. Sumsion, with Mirah's class.
Once her class was done, we got ready to go, but before we left we saw this guy: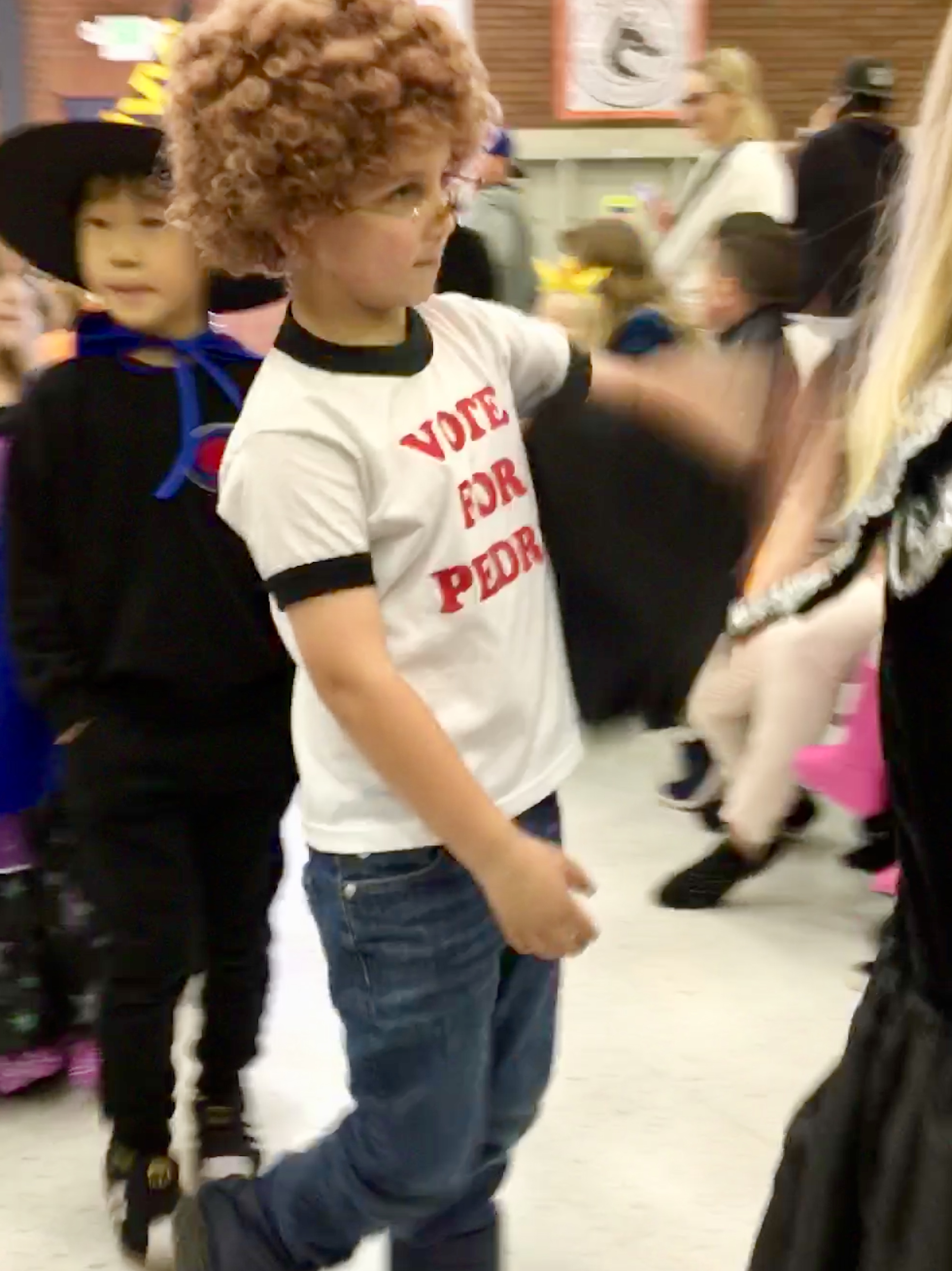 He must have radical parents. Unlike that Trump guy.
When we got home, Lucas had a bit of a breakdown.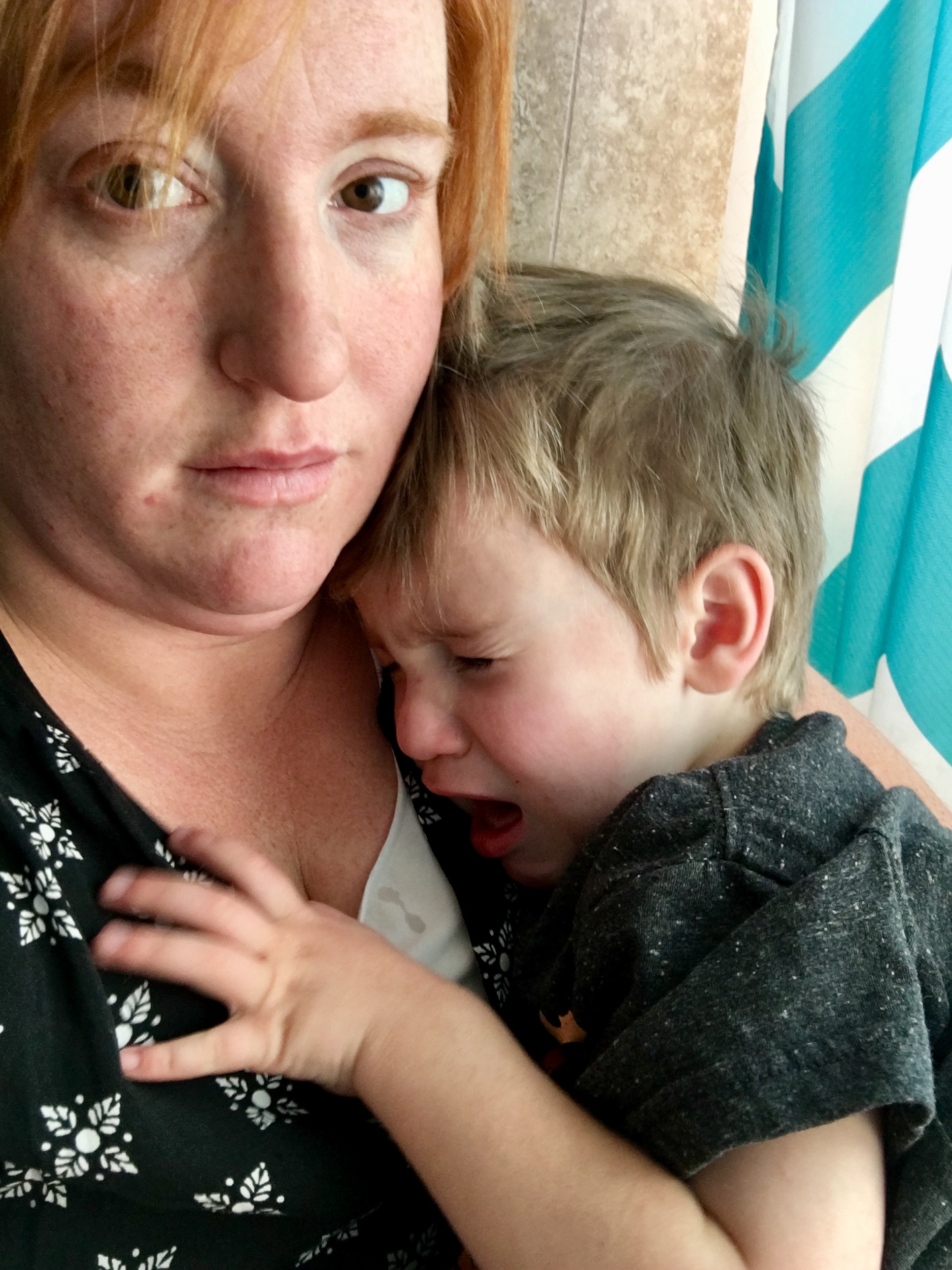 He took a little nap. Then we left to go and get Mirah from school. She had been having a blast watching movies and eating candy.
We made our first stop of the day, Crispy Creme. If come in, in costume you get a free doughnut.  Lucas didn't want to wear his costume. So I let him "wear" my Chewbacca mask.
You could get any doughnut, so the kids got the fanciest one.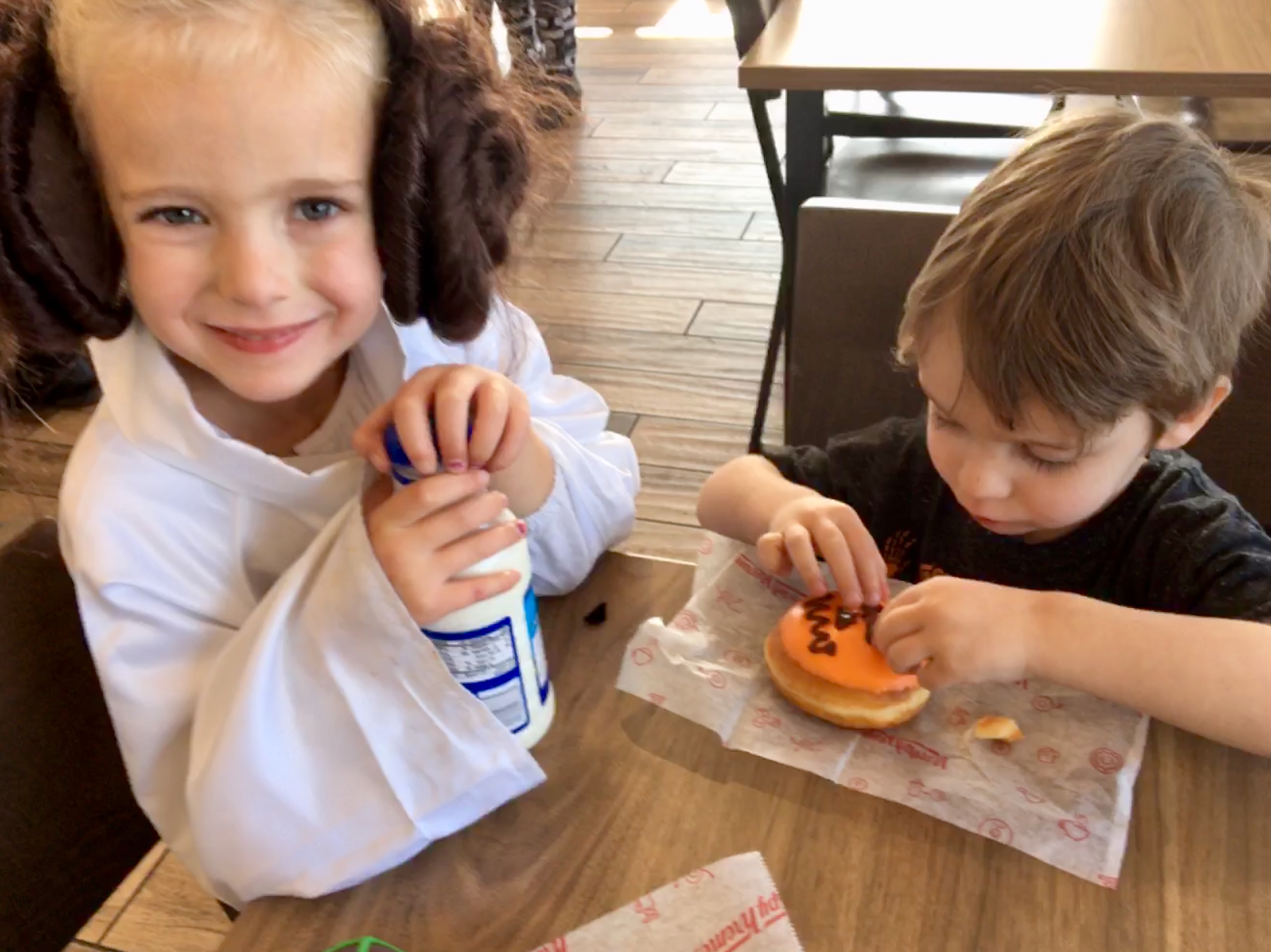 We went home and got out for costume and went to the grocery store to get stuff for dinner, and some more candy. Mirah wanted to keep it Halloweeny-so we put this little number together.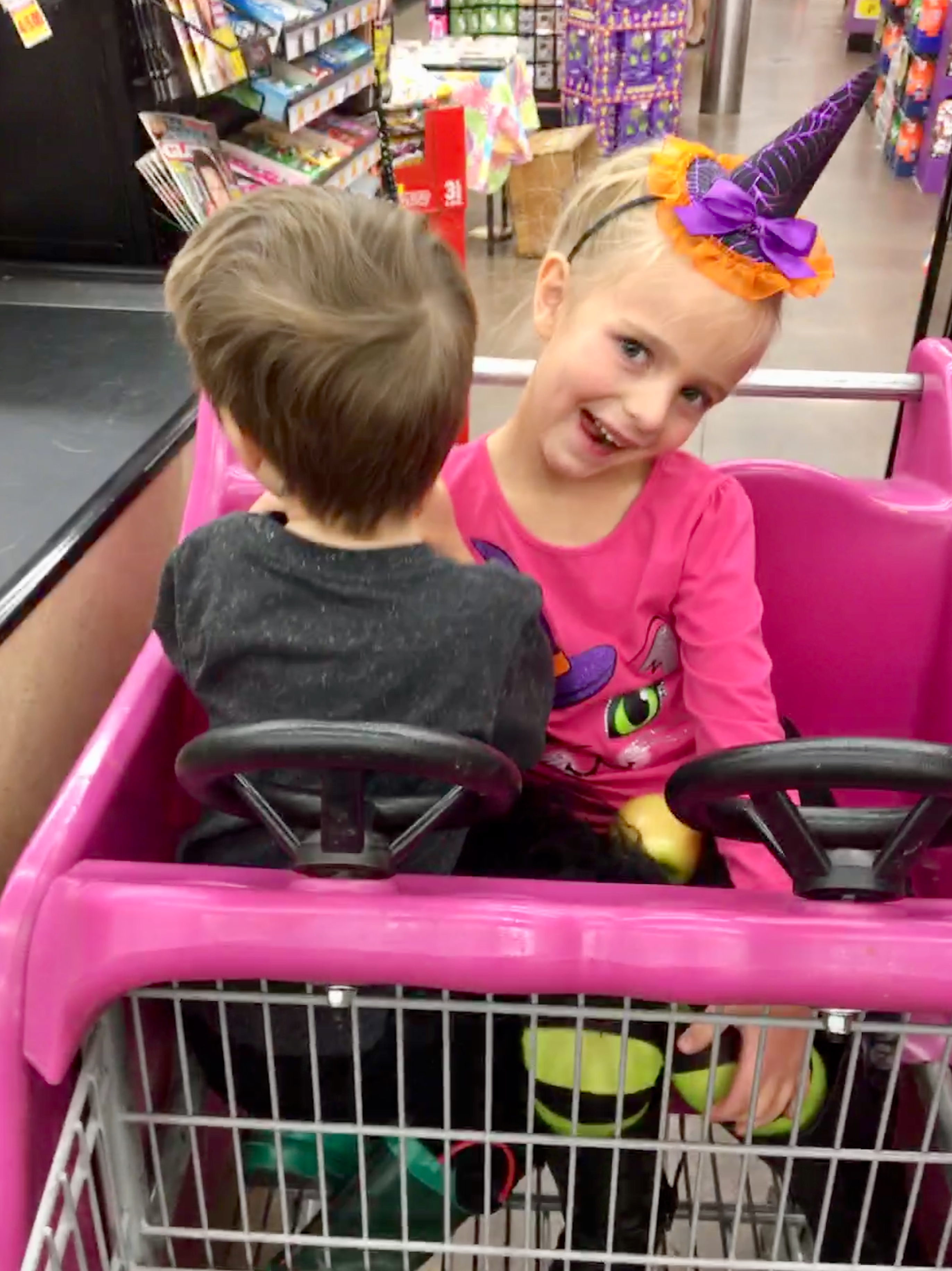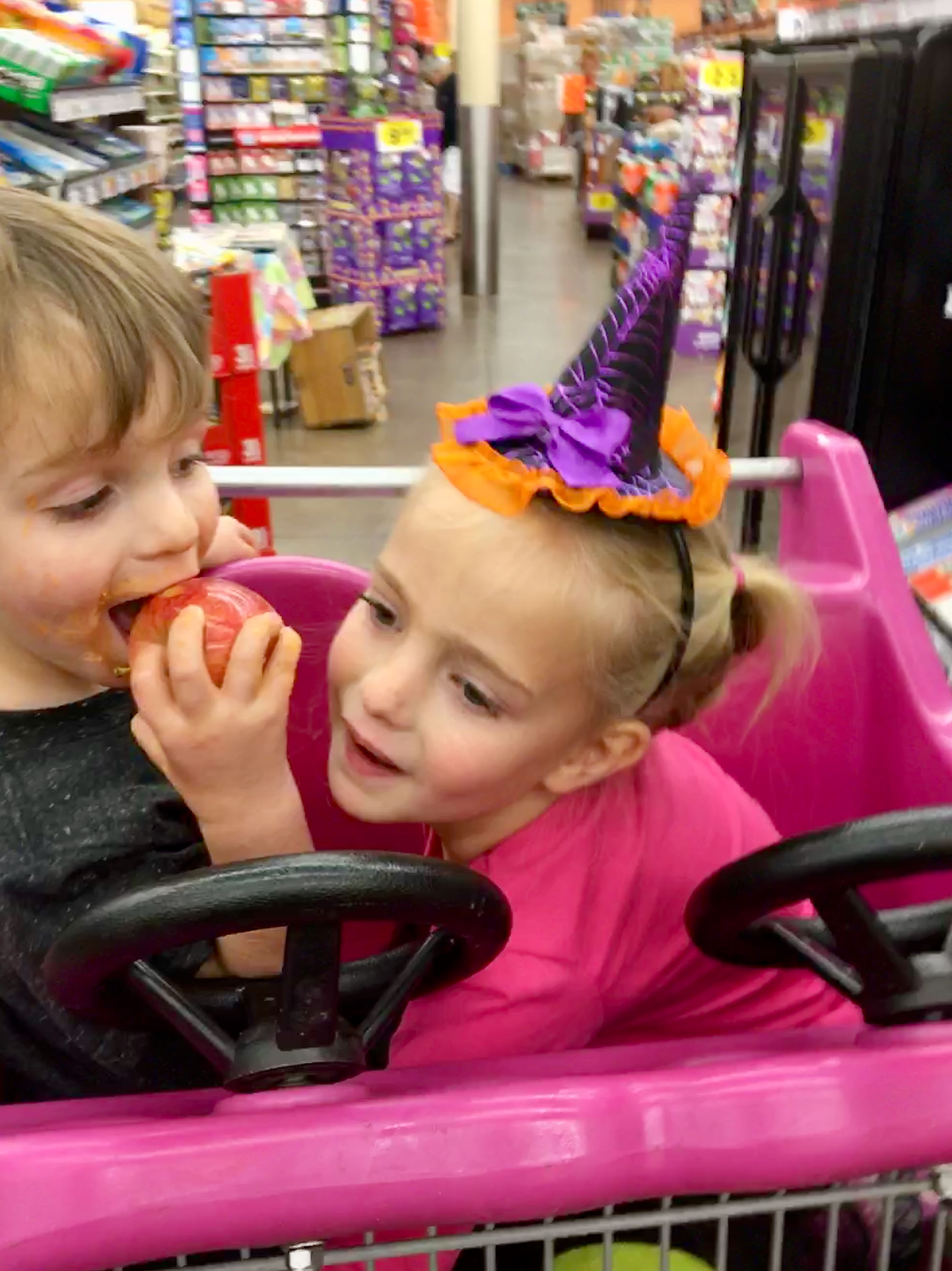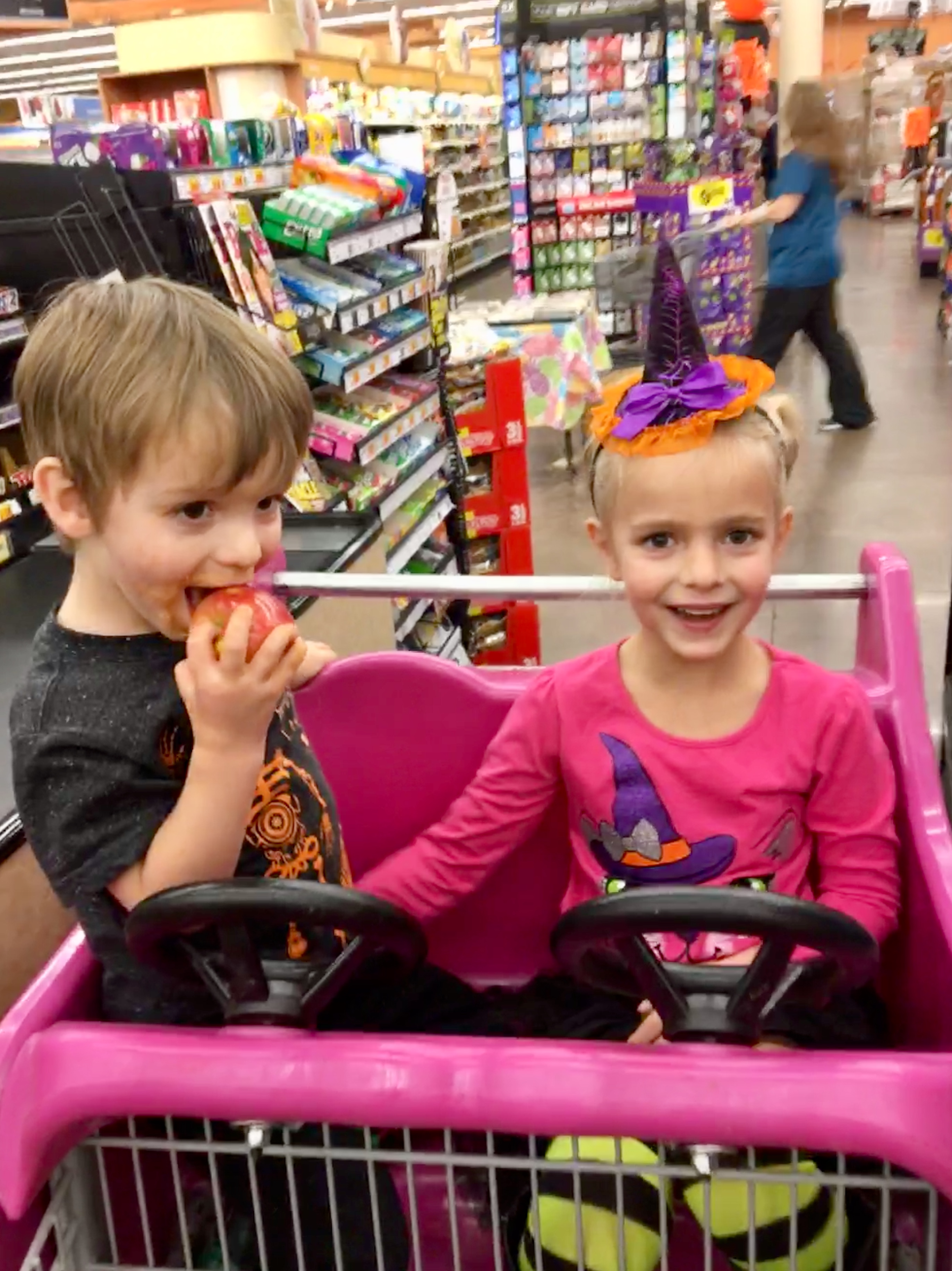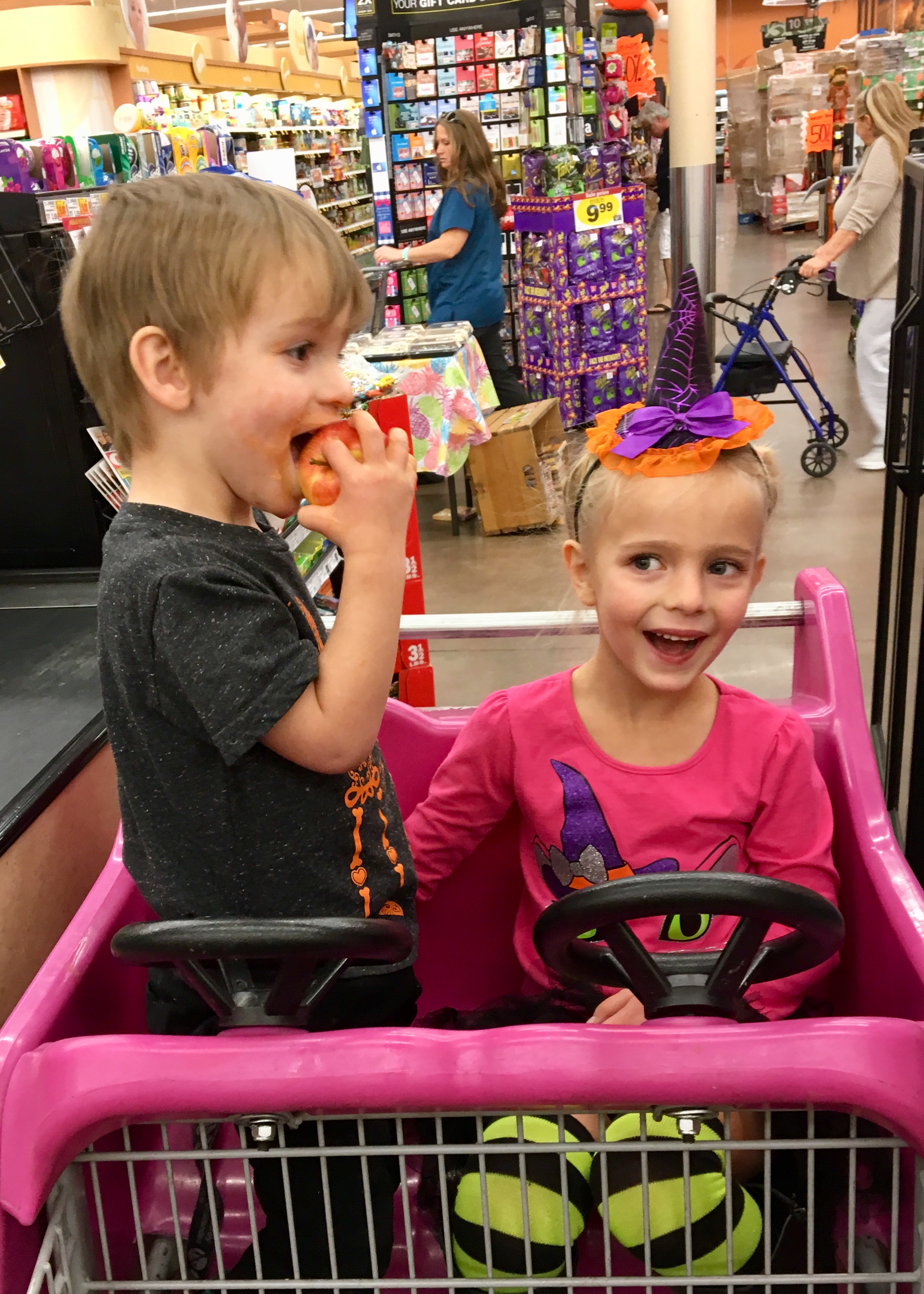 Around 3, we got packed up to go down town Provo for Trick or Treating.
Aunt Belle wanted to come over and see the kids before they went out. She helped with fixing her hair buns. And showed her how to wear them best.
She didn't leave before taking pictures for us.
We got down to Provo. And got ready for some candy.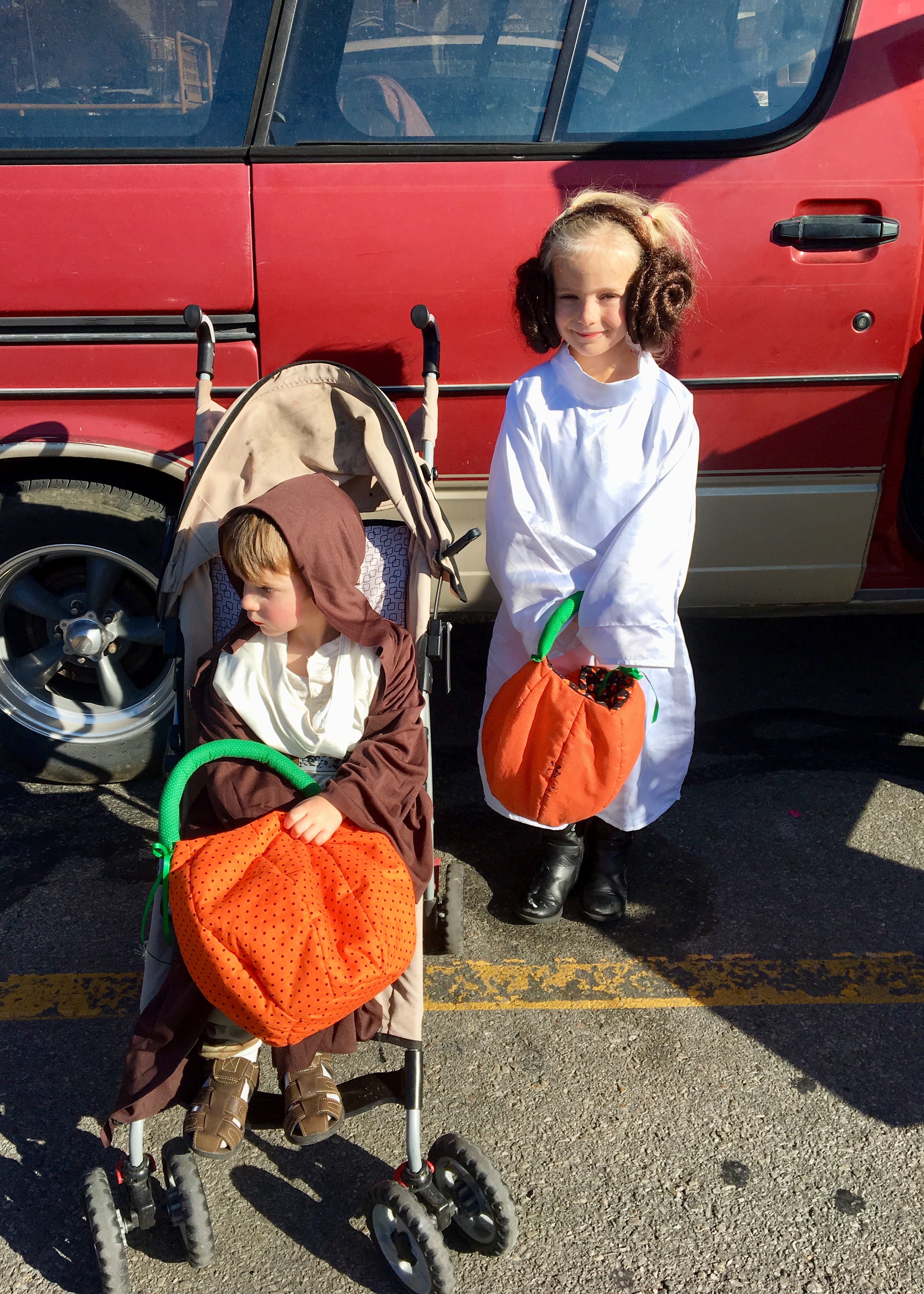 As always, our Karen and Krysta met us there.
Krysta helping Karen get her earrings in. PRINCESS MONONOKE.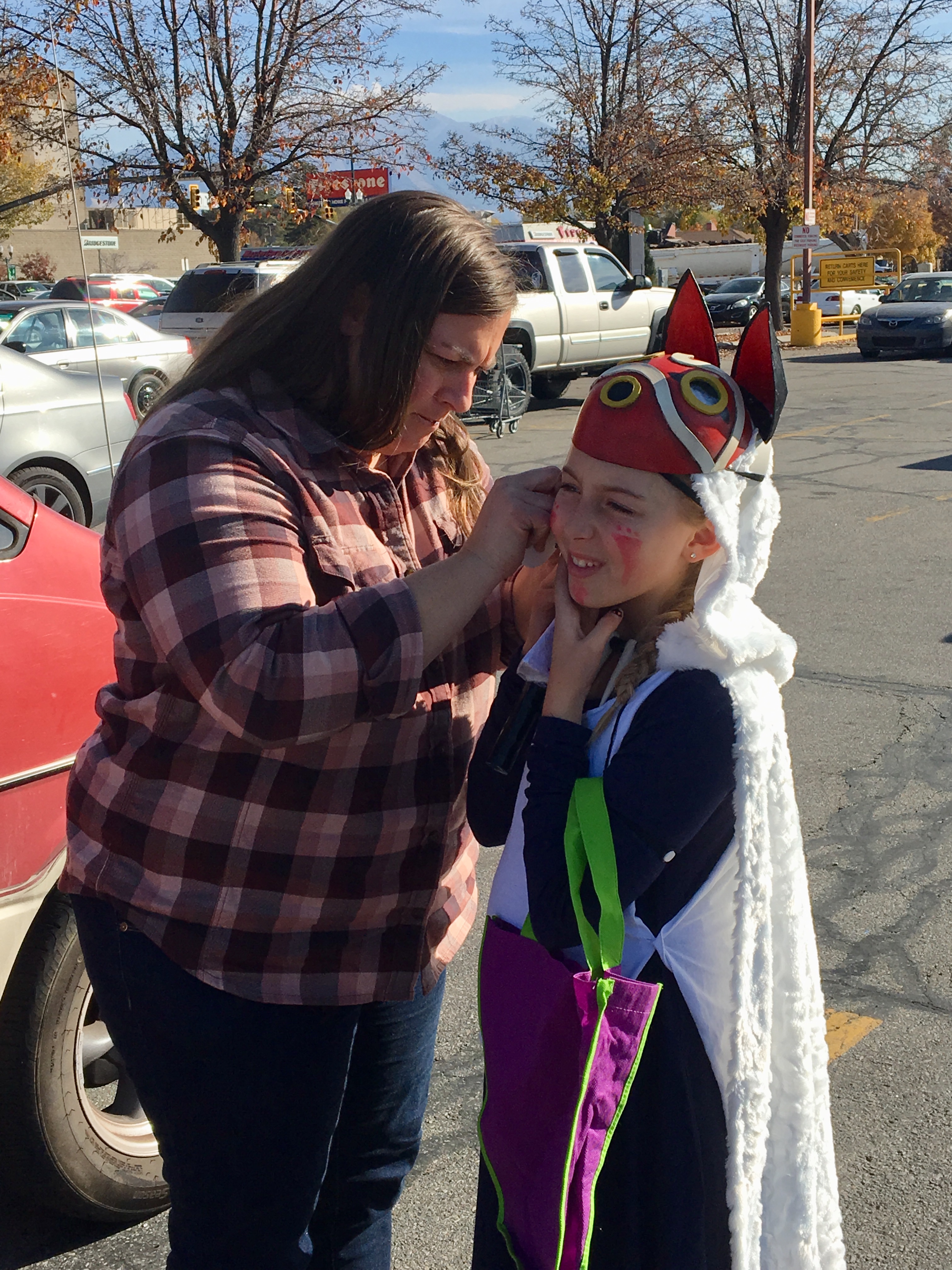 Let's take a minute to look at Lucas. He is an amazing LUKE SKYWALKER.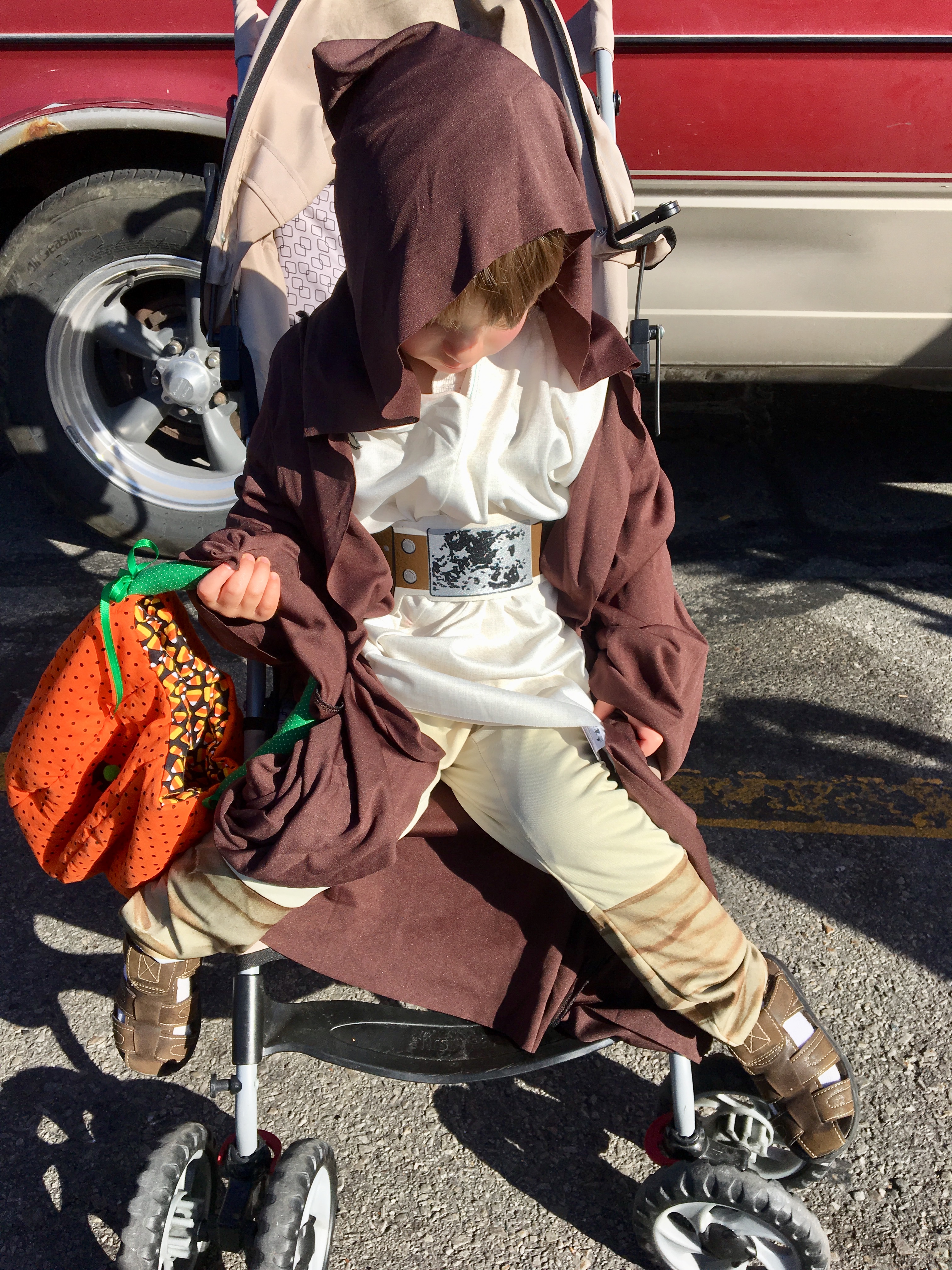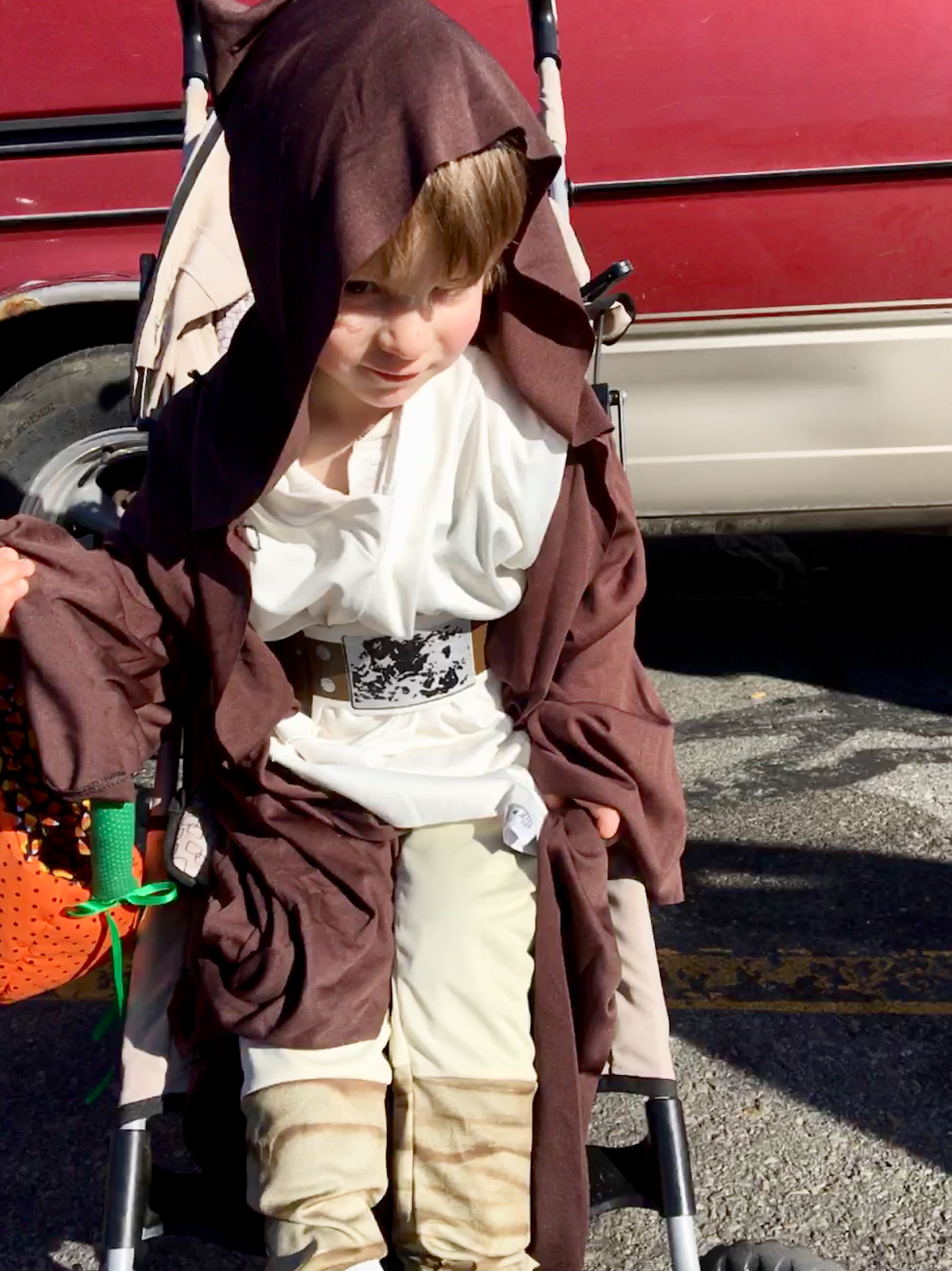 We got going, and one of the stops included a tour of the new BRT buses.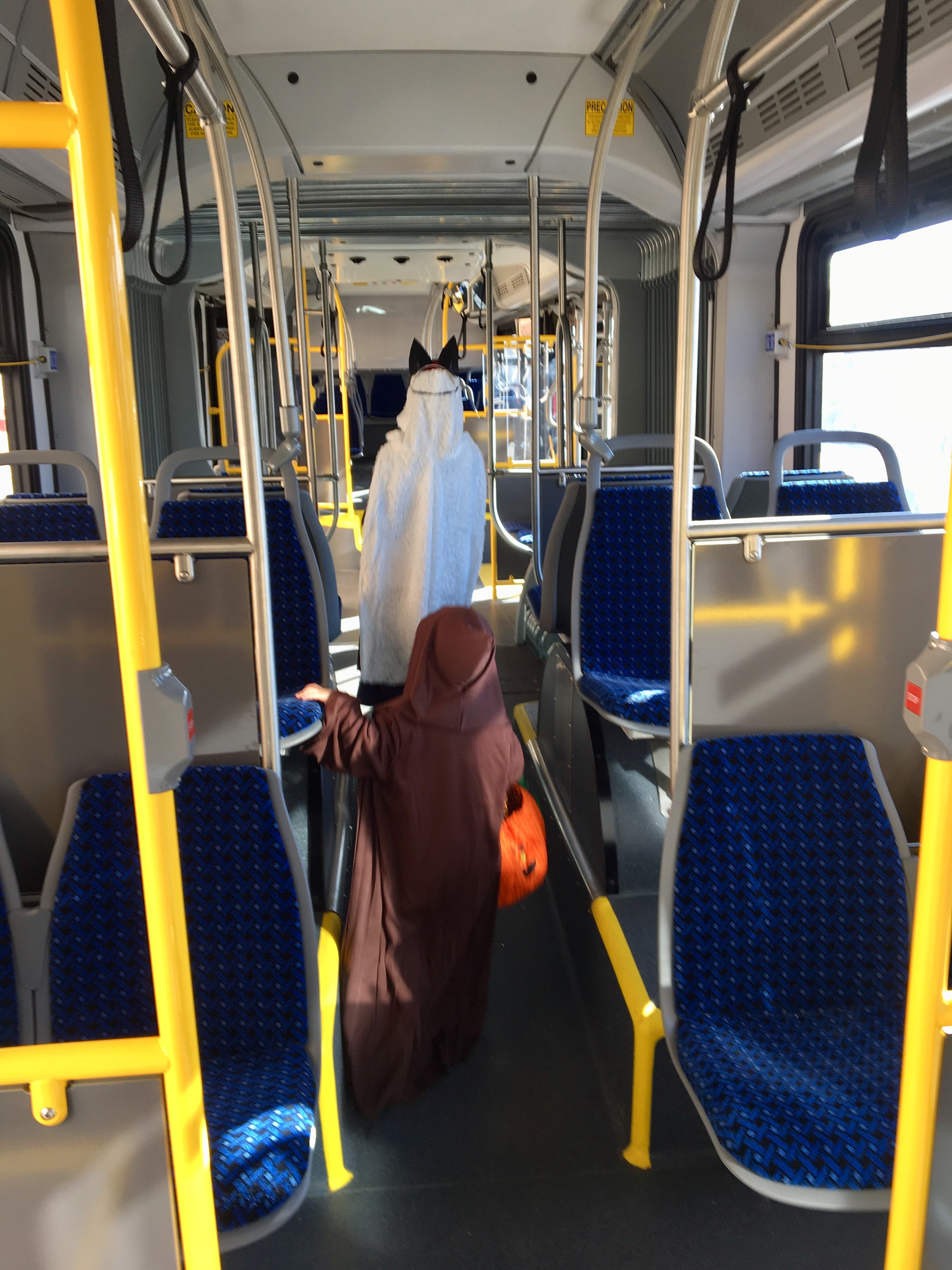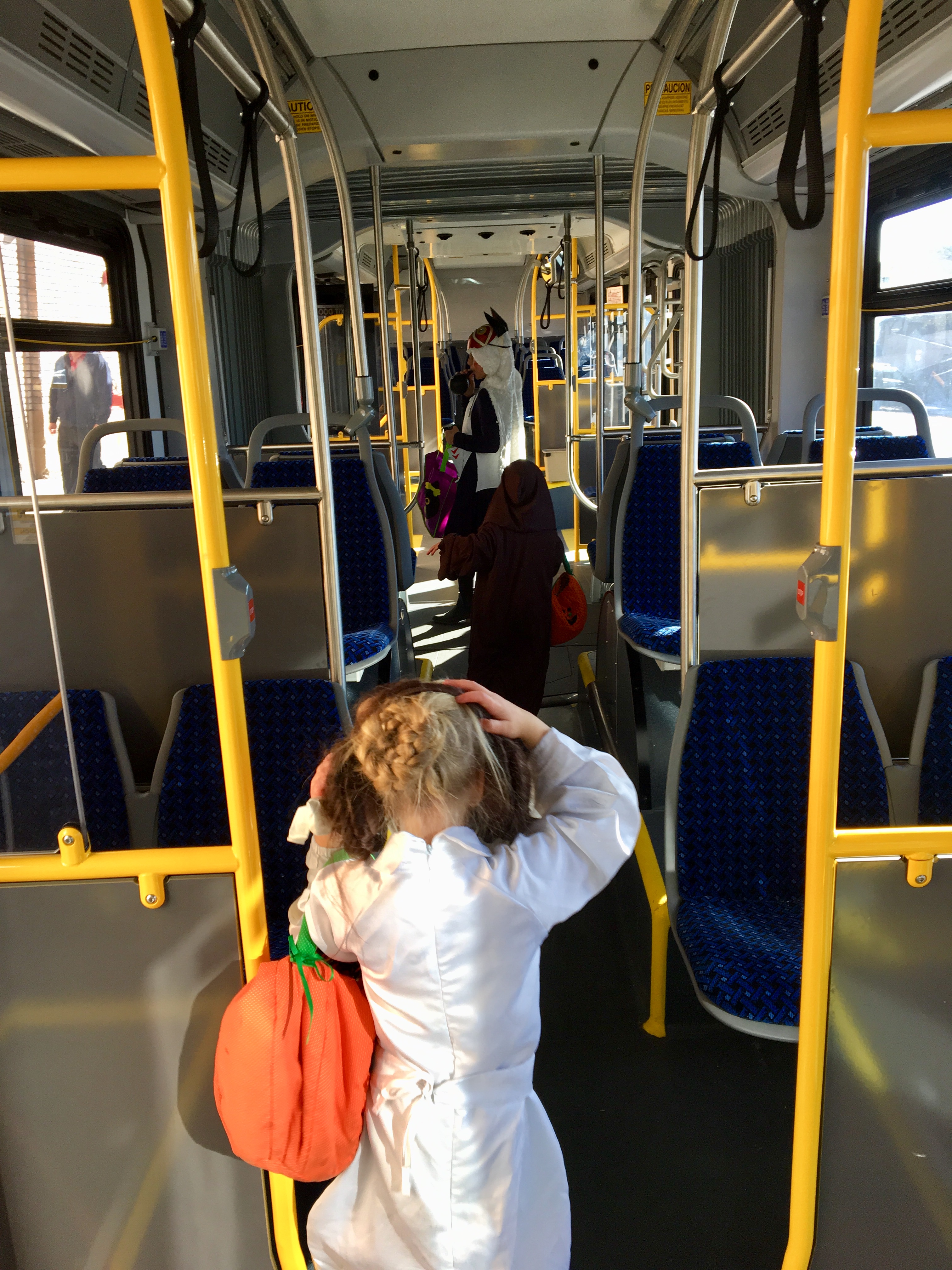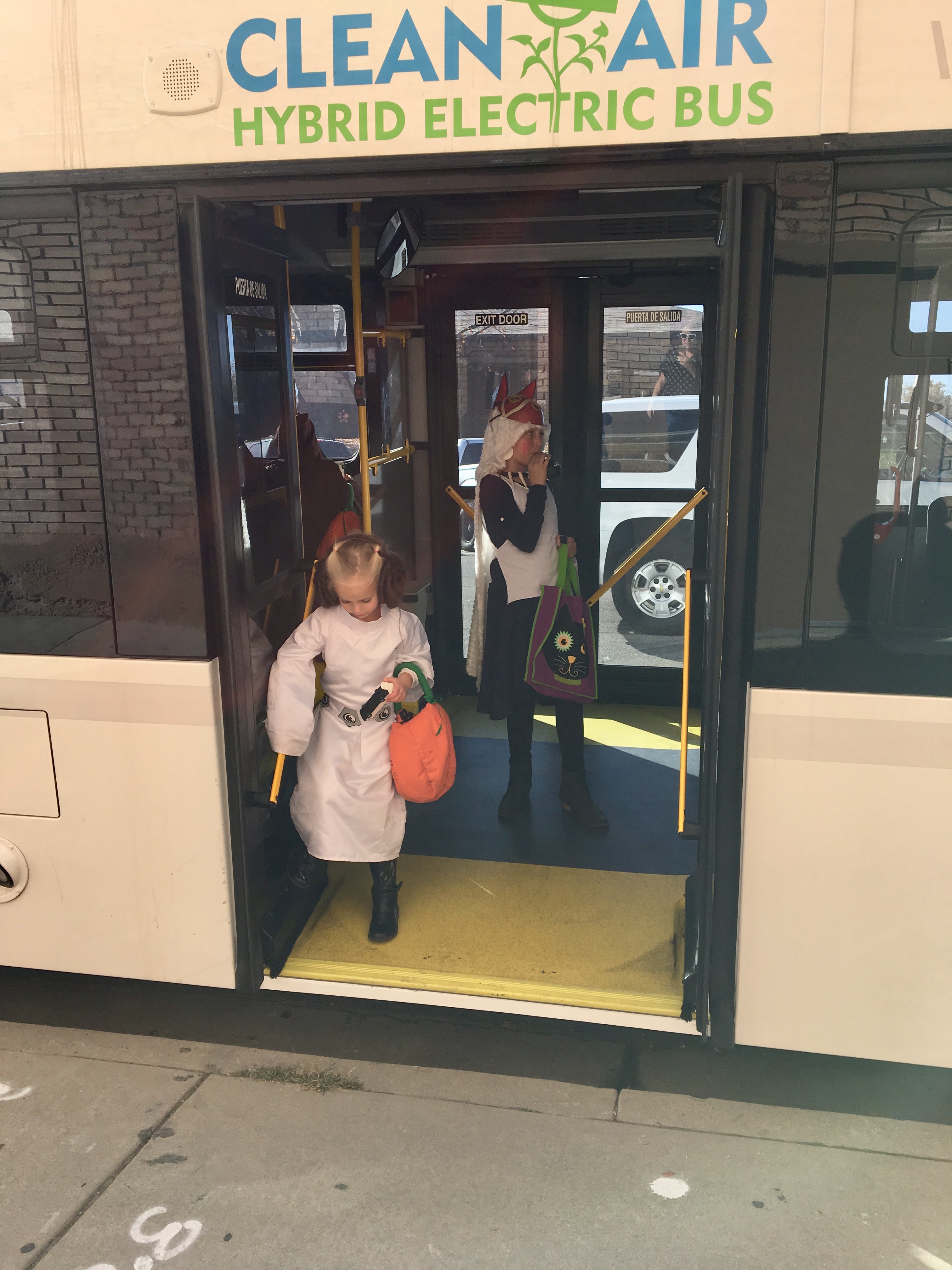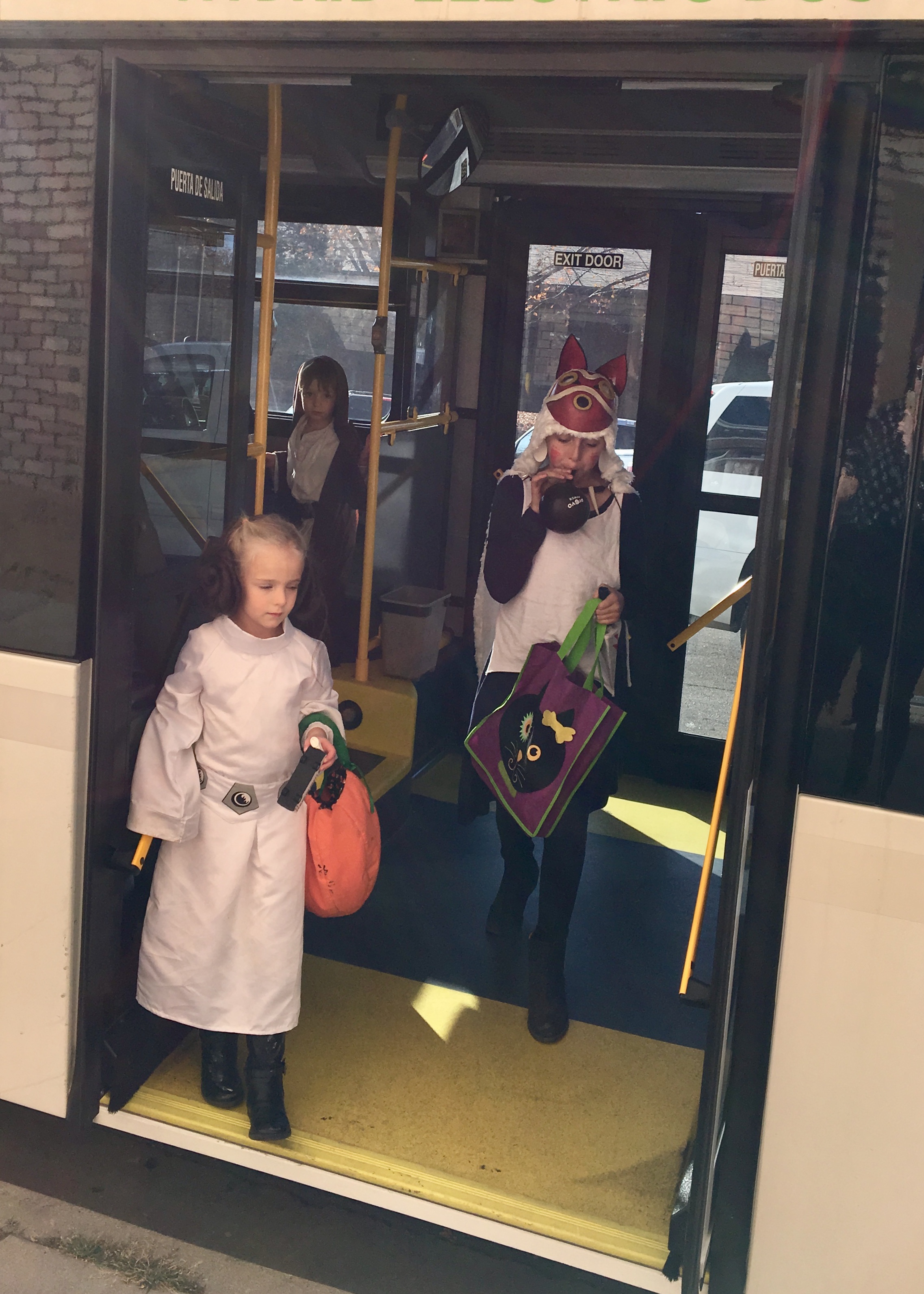 Half way through, Mirah's buns were looking pretty sad, but she was still looking really cute.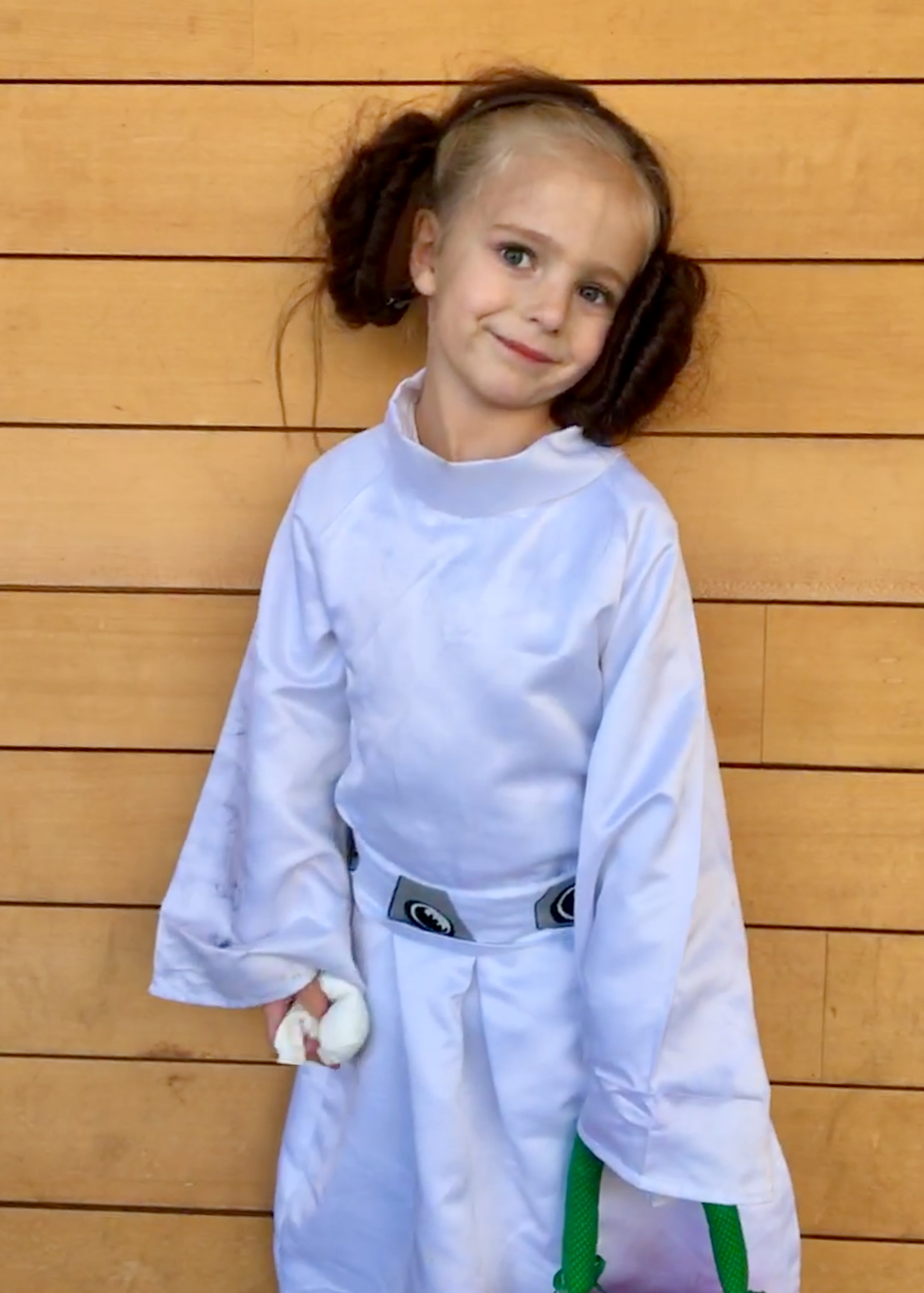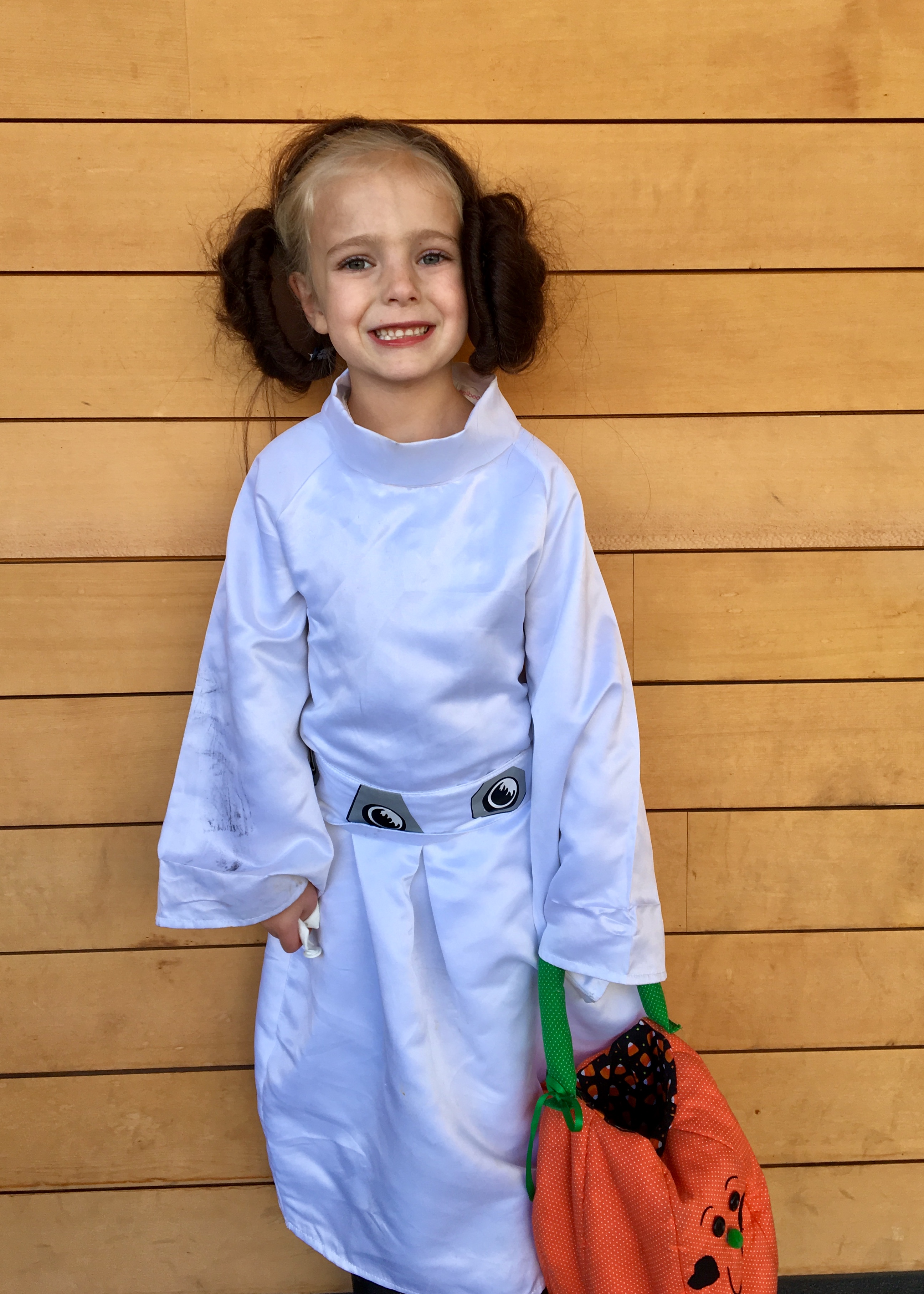 Saying see you later to Krysta.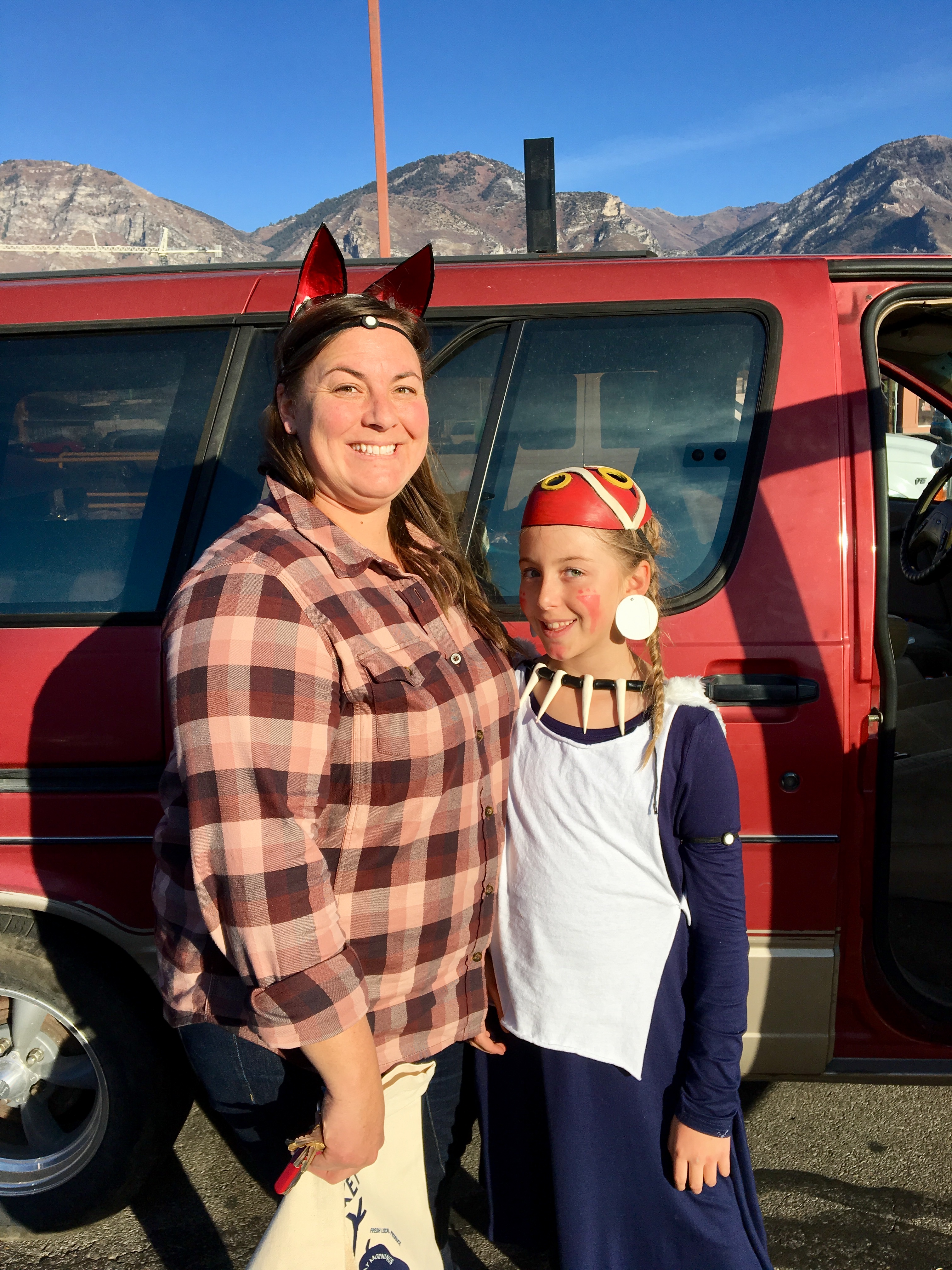 We headed over to the Qualtircs Halloween Celebration.
Lucas was so so happy to see dad.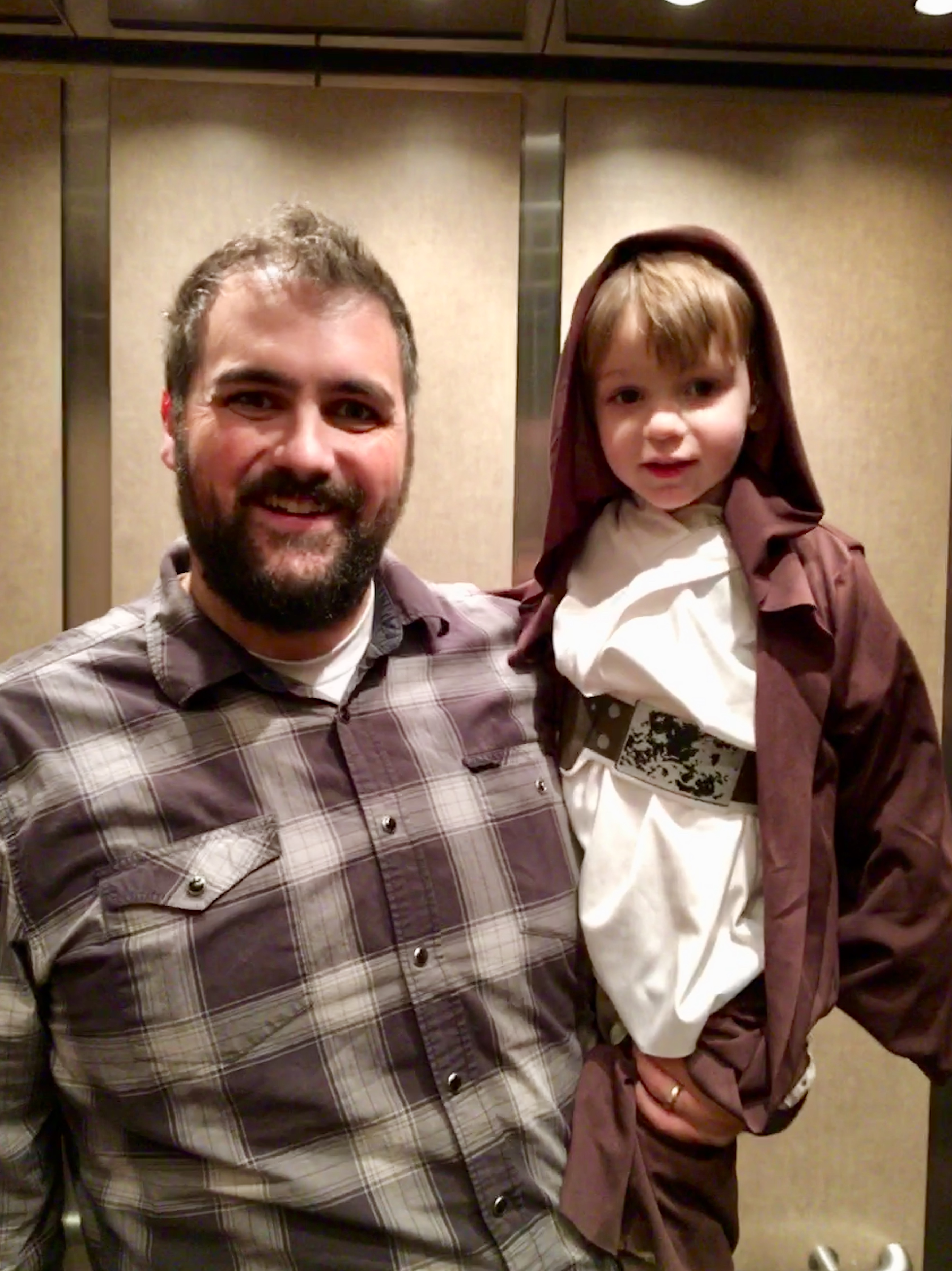 Most of the festivities were over, but employees dressed in radical costumes and tables of candy were everywhere.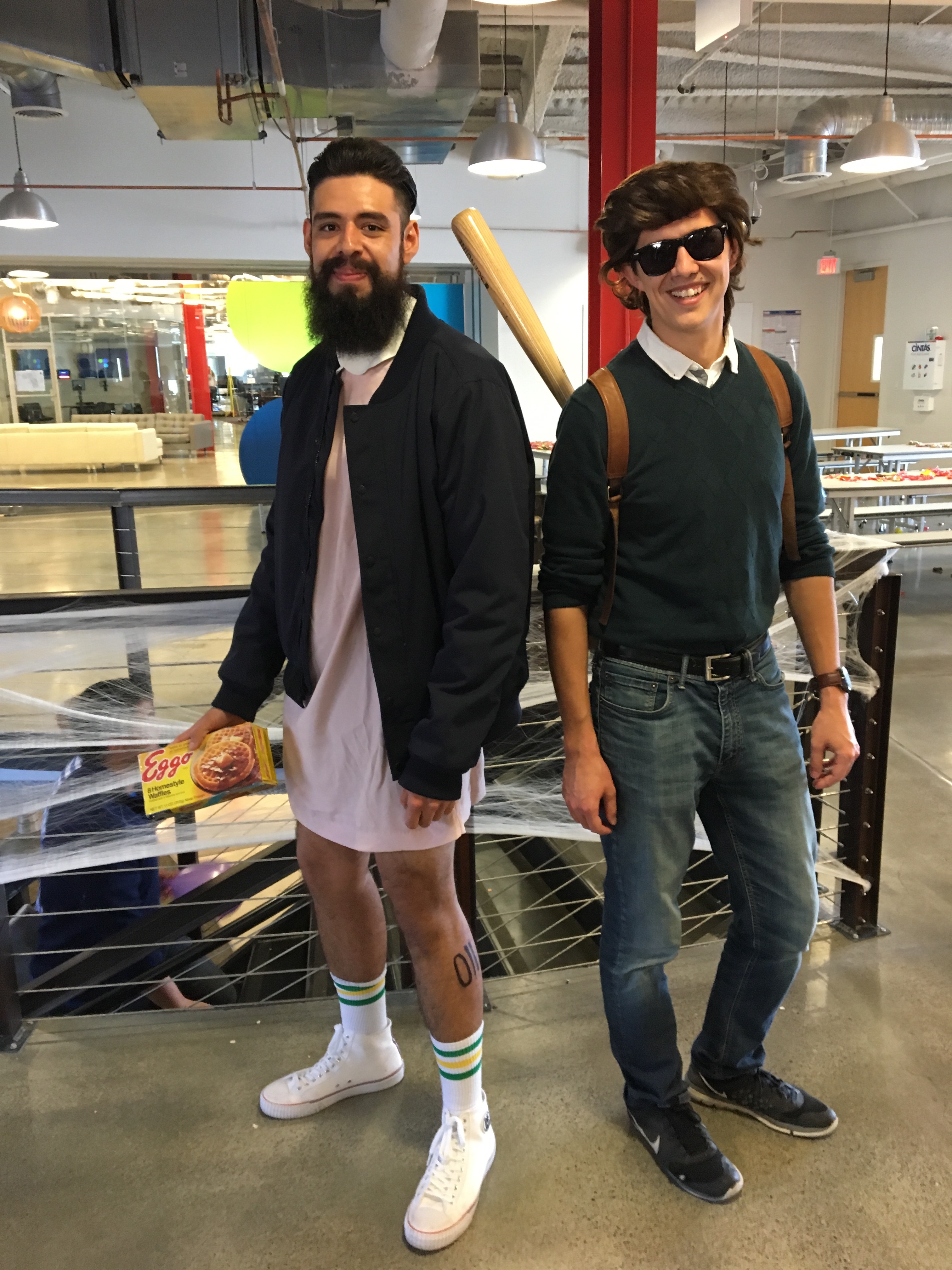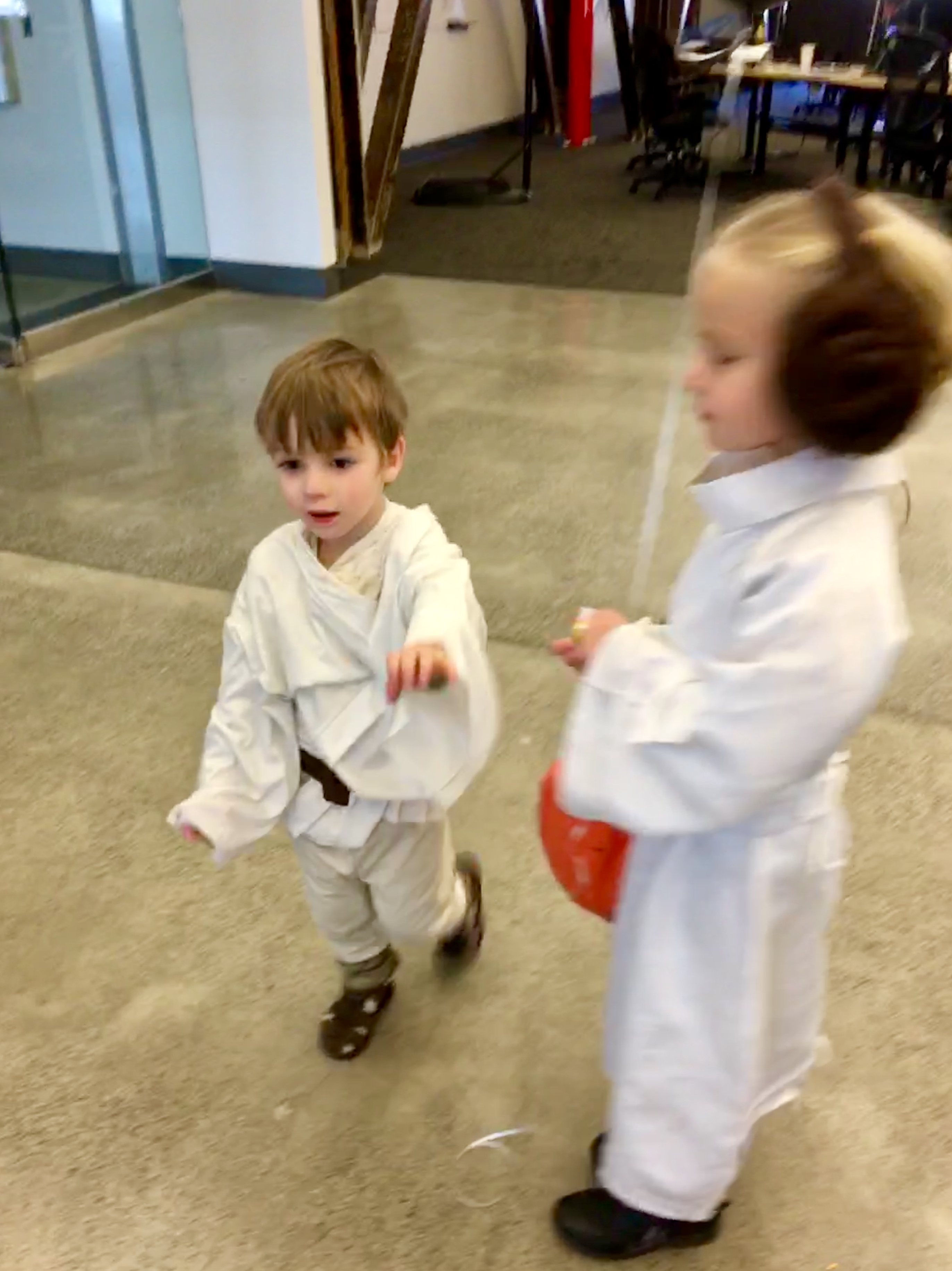 Karl came home, and we had baked potato bar for dinner.
Then we got ready to go out and trick or treat our neighborhood.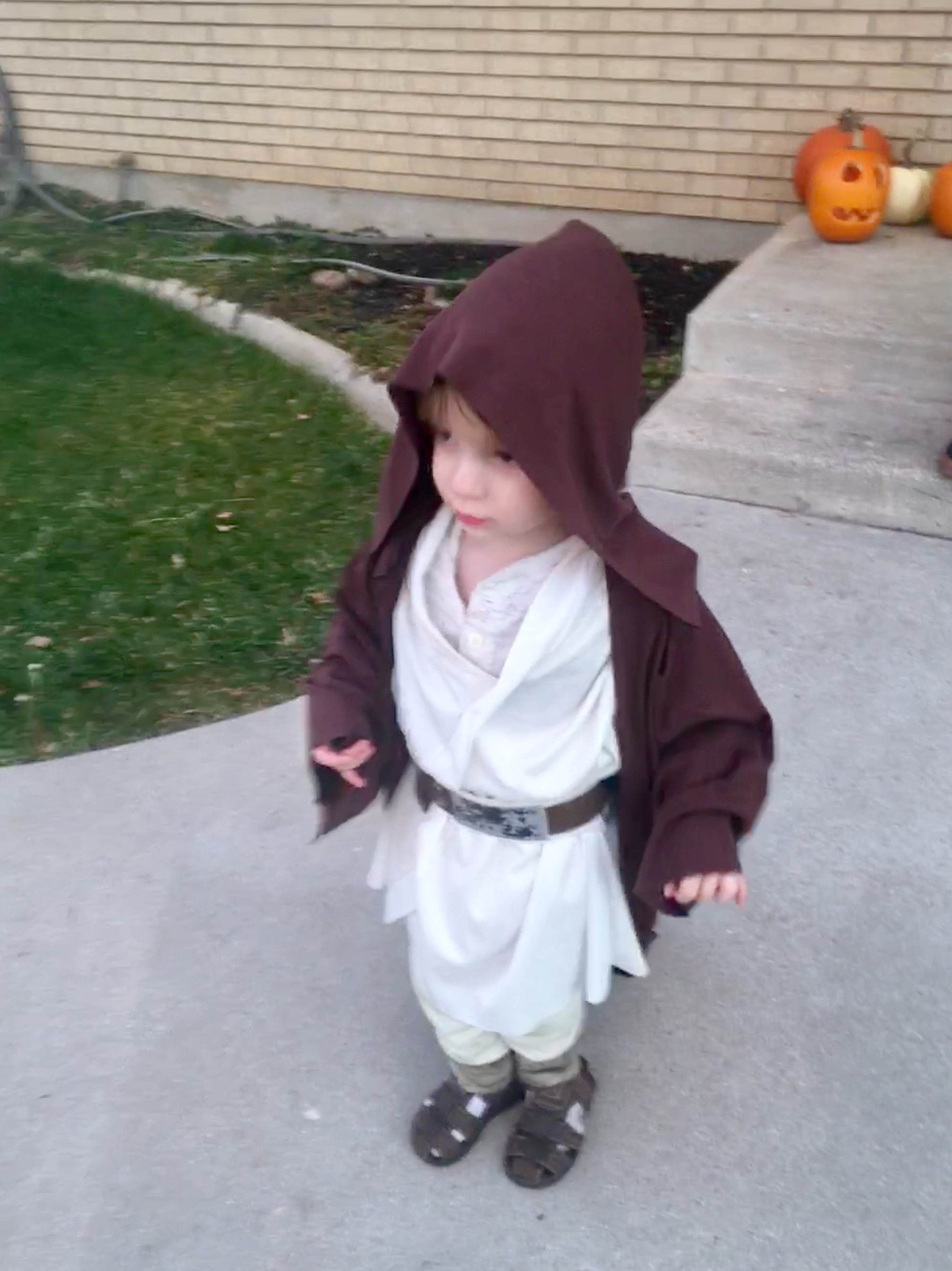 Oh LUCAS.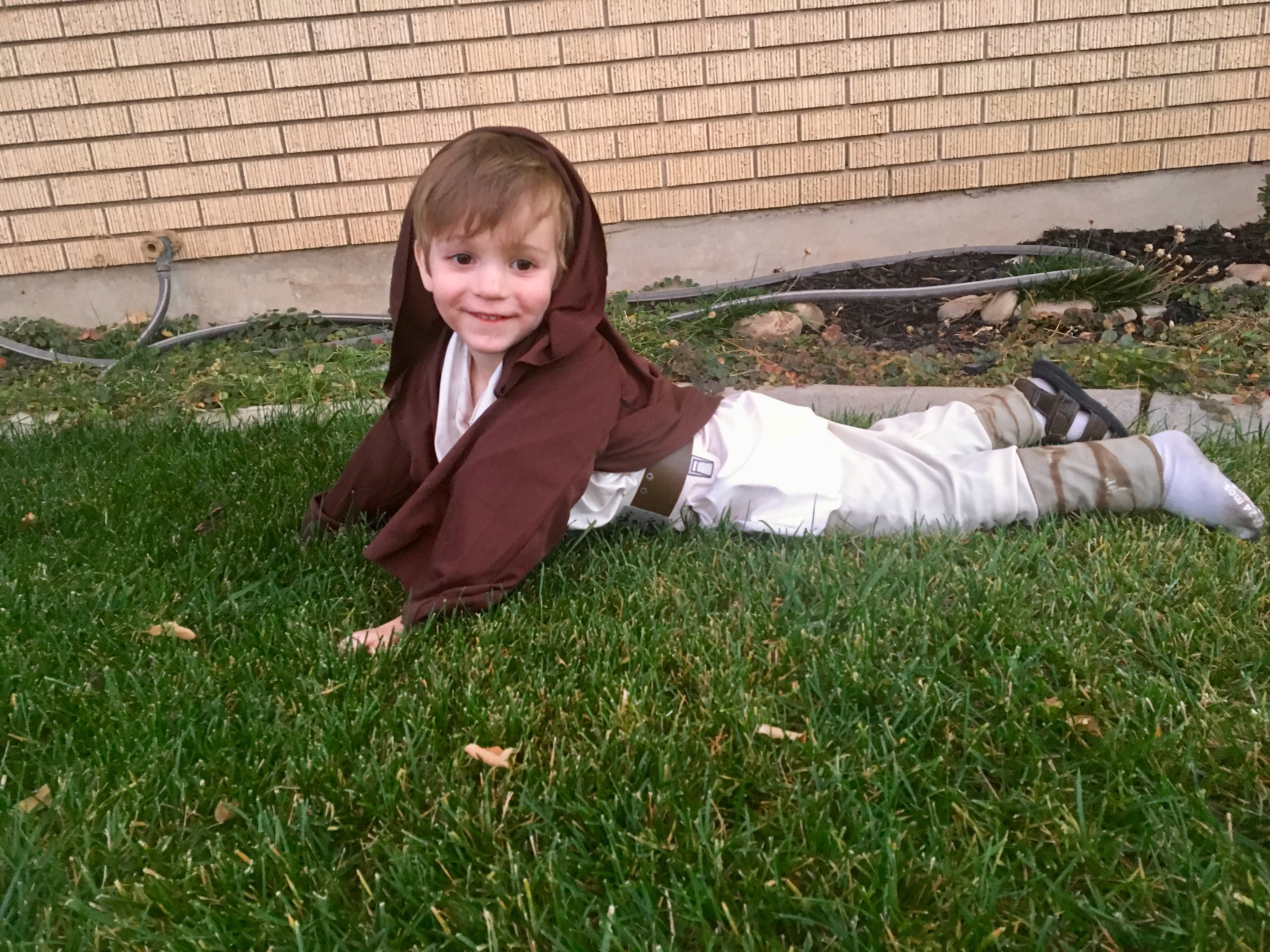 Oh and Belle came to go trick or treating with us! She wore my late Grandma Denny's old Girl Scout uniform.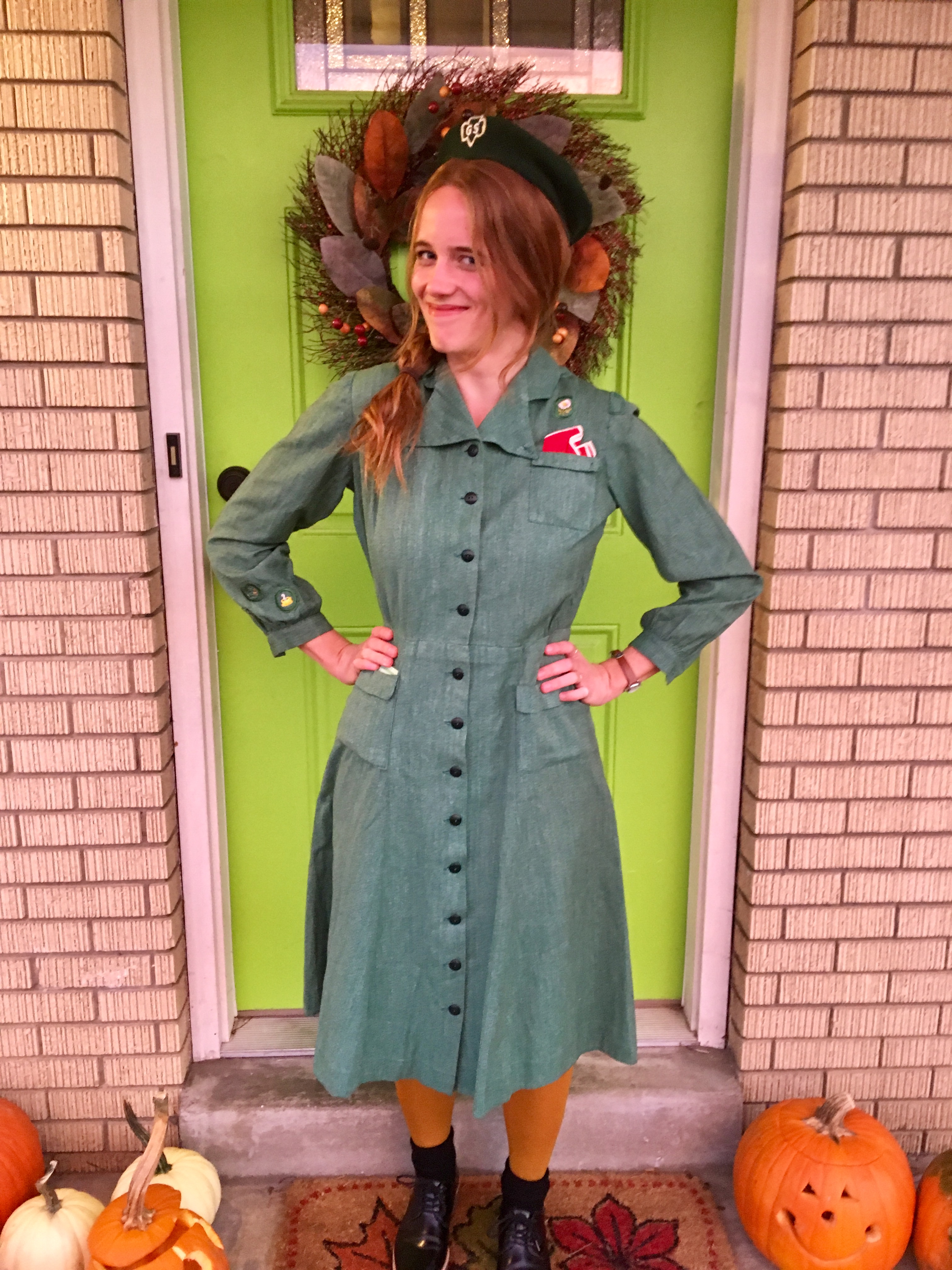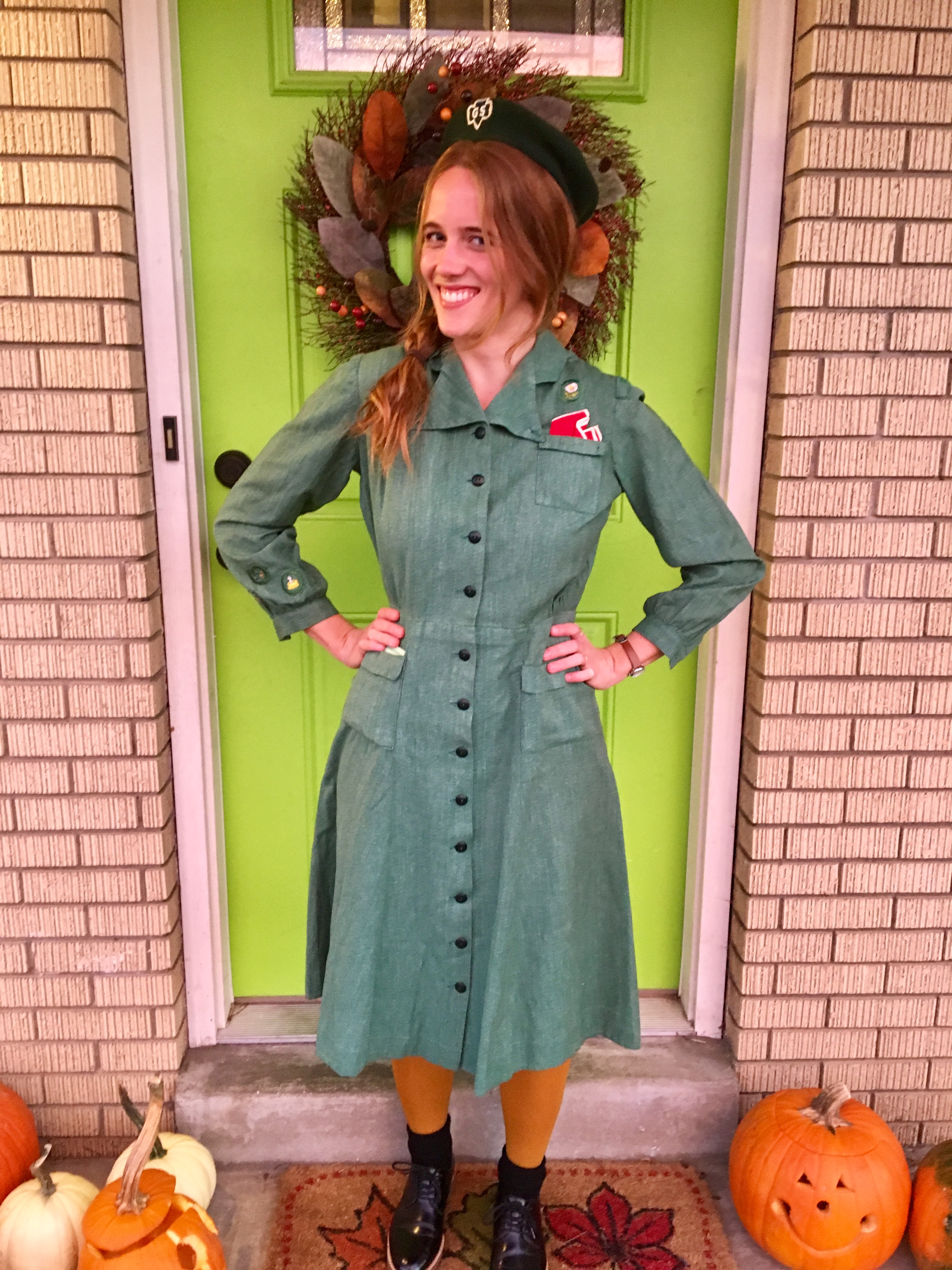 Complete with achievement cards in the pocket.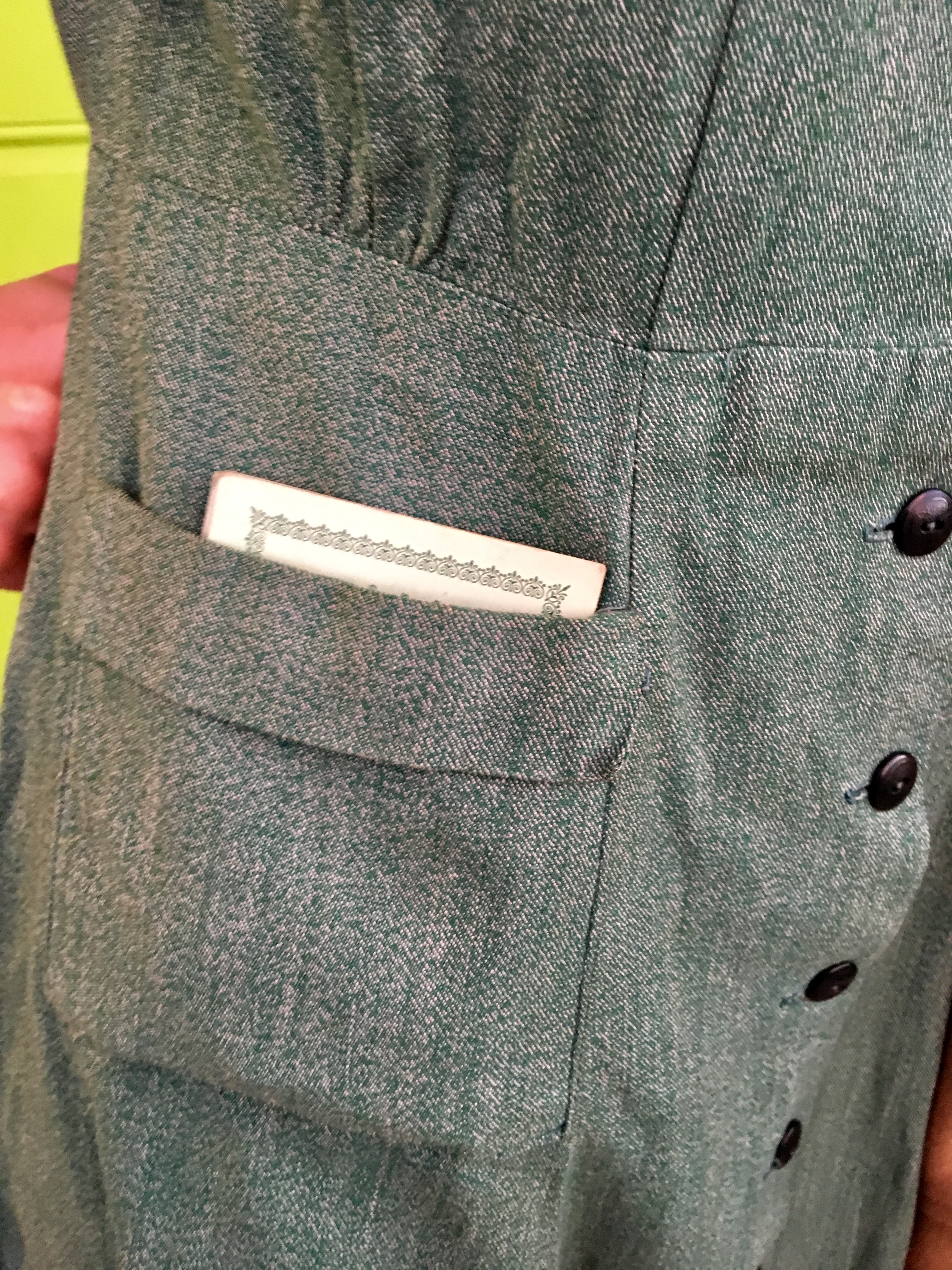 In grandma's writing.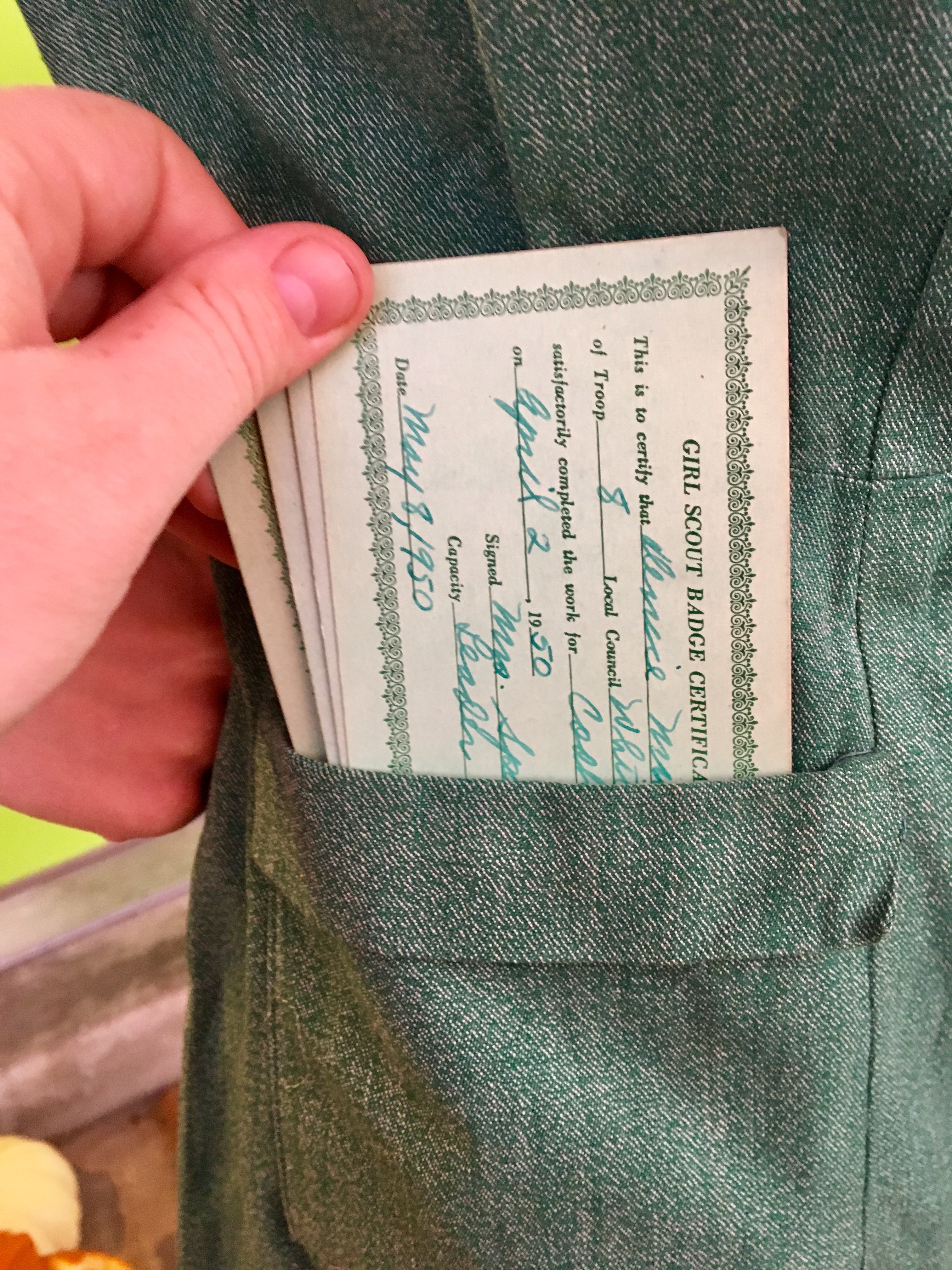 Off we went! Here we are at Bishop's house.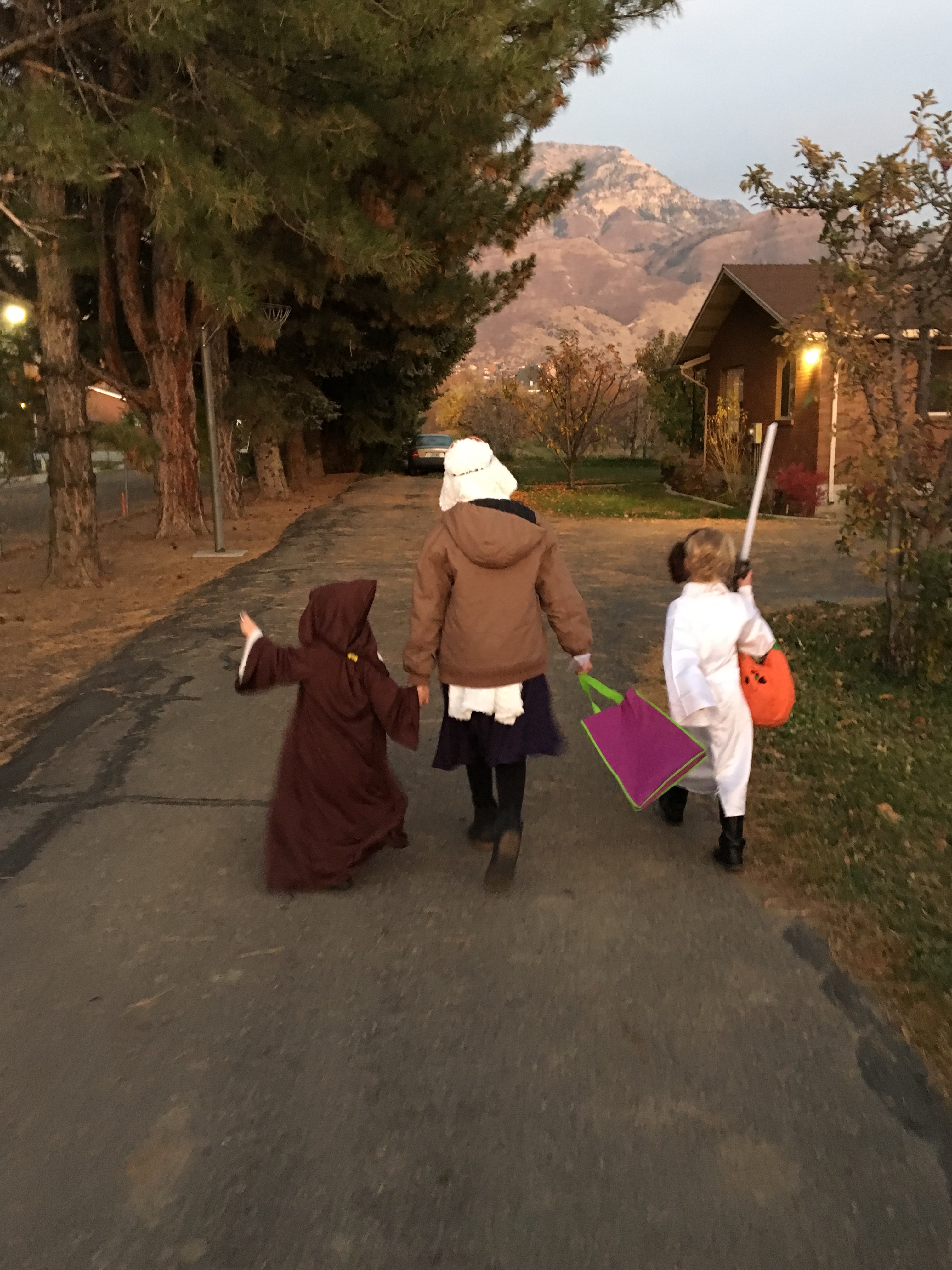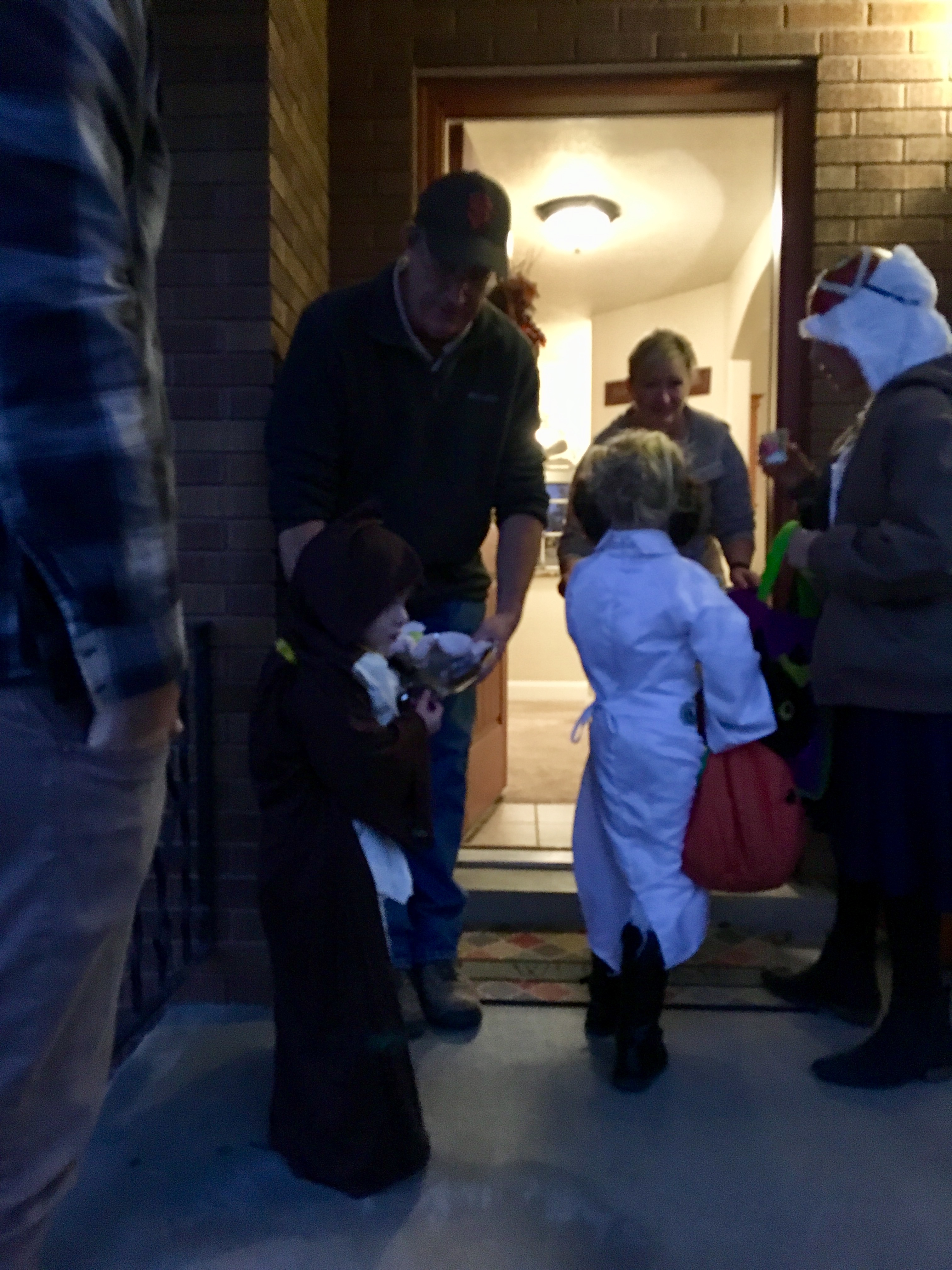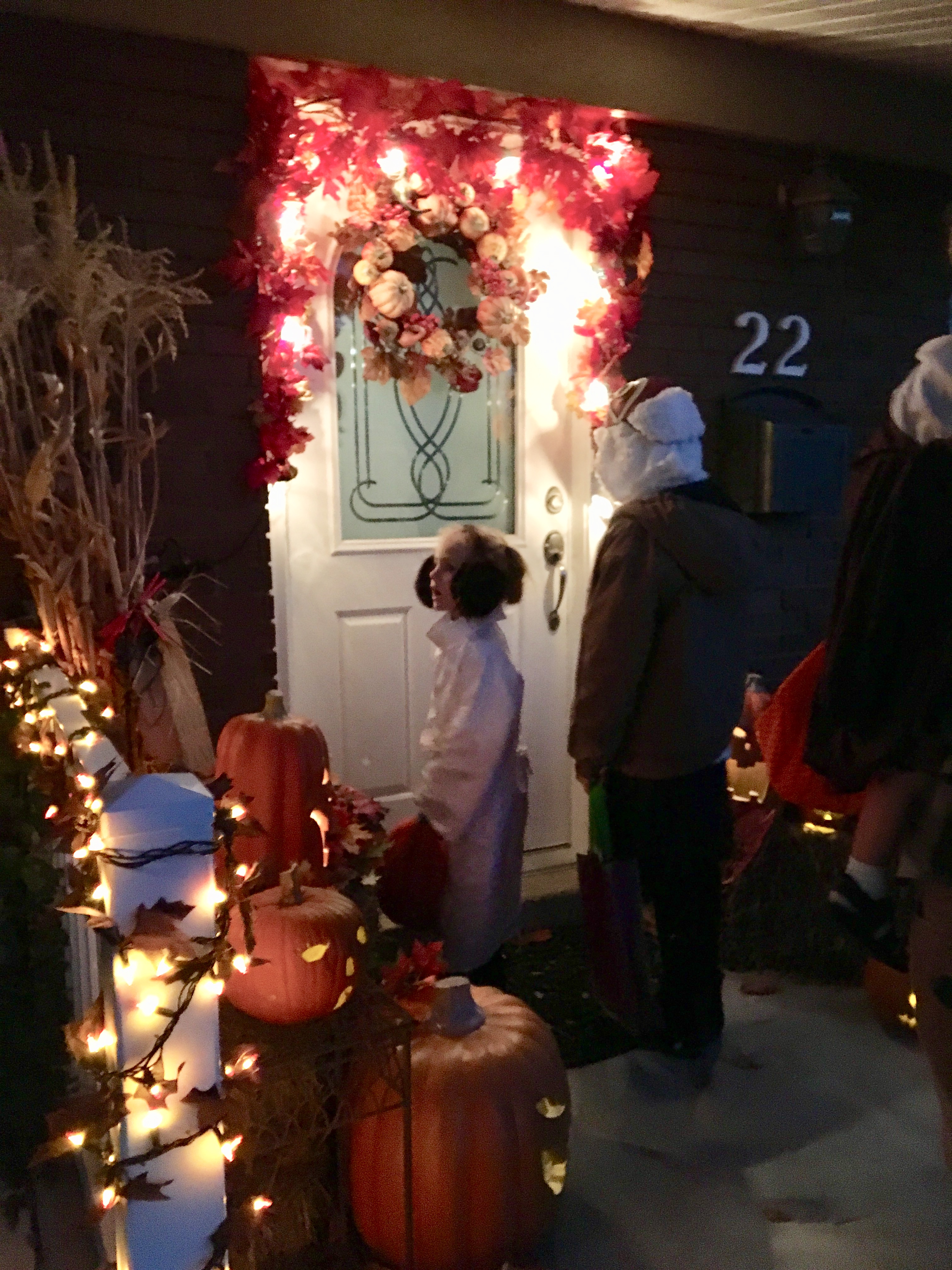 Brother Nordgren scared all of us with this craziness on stilts.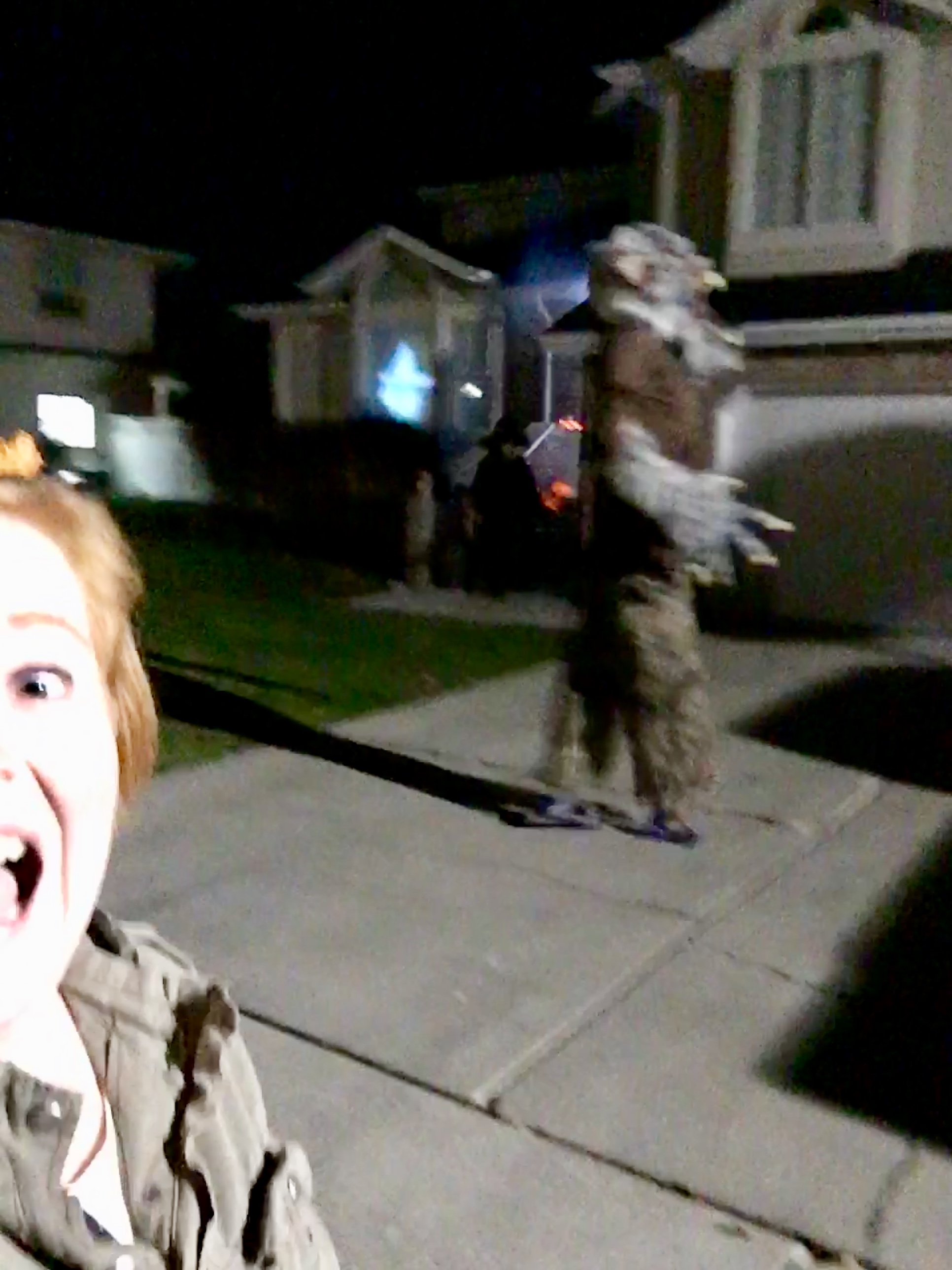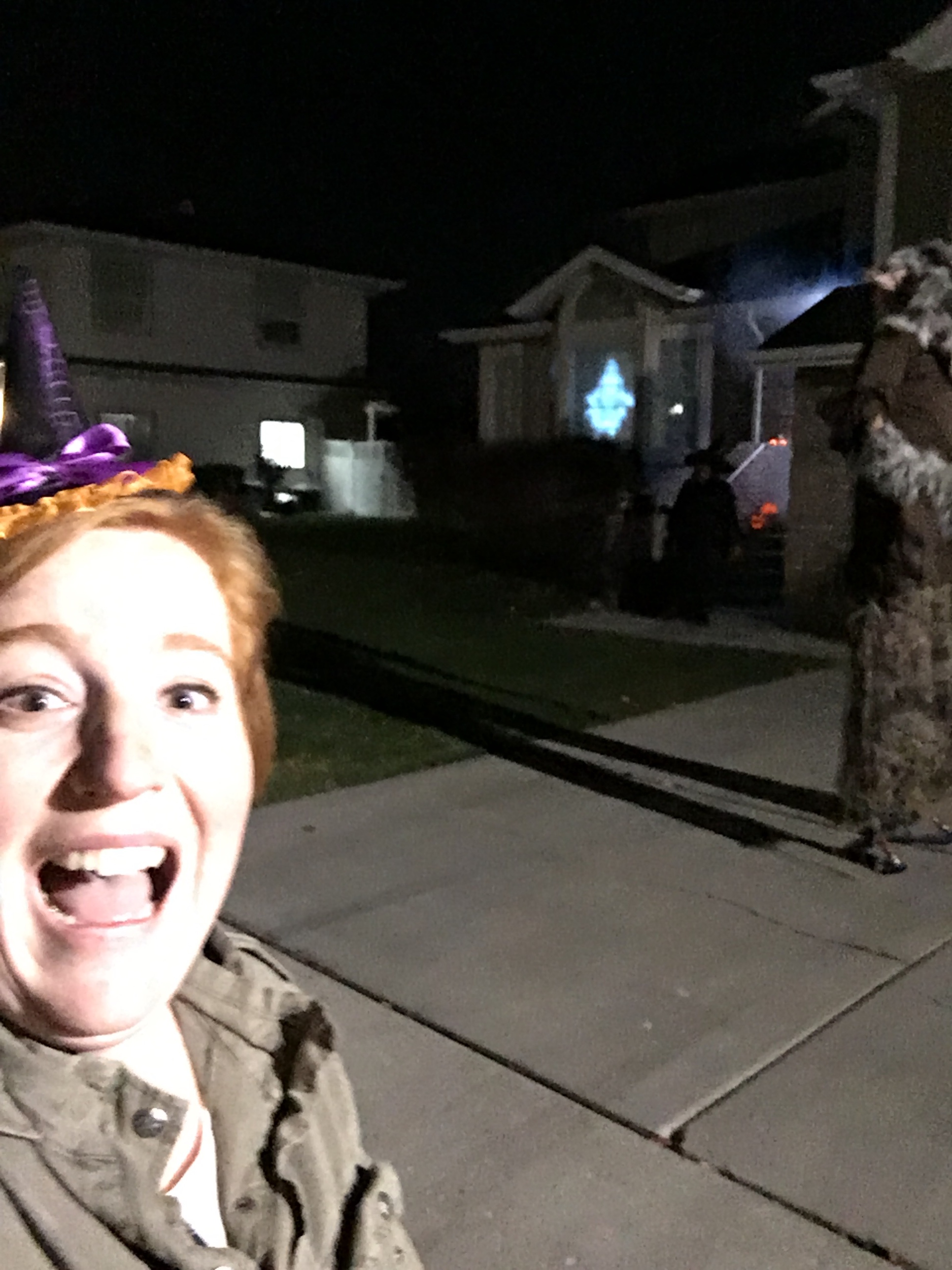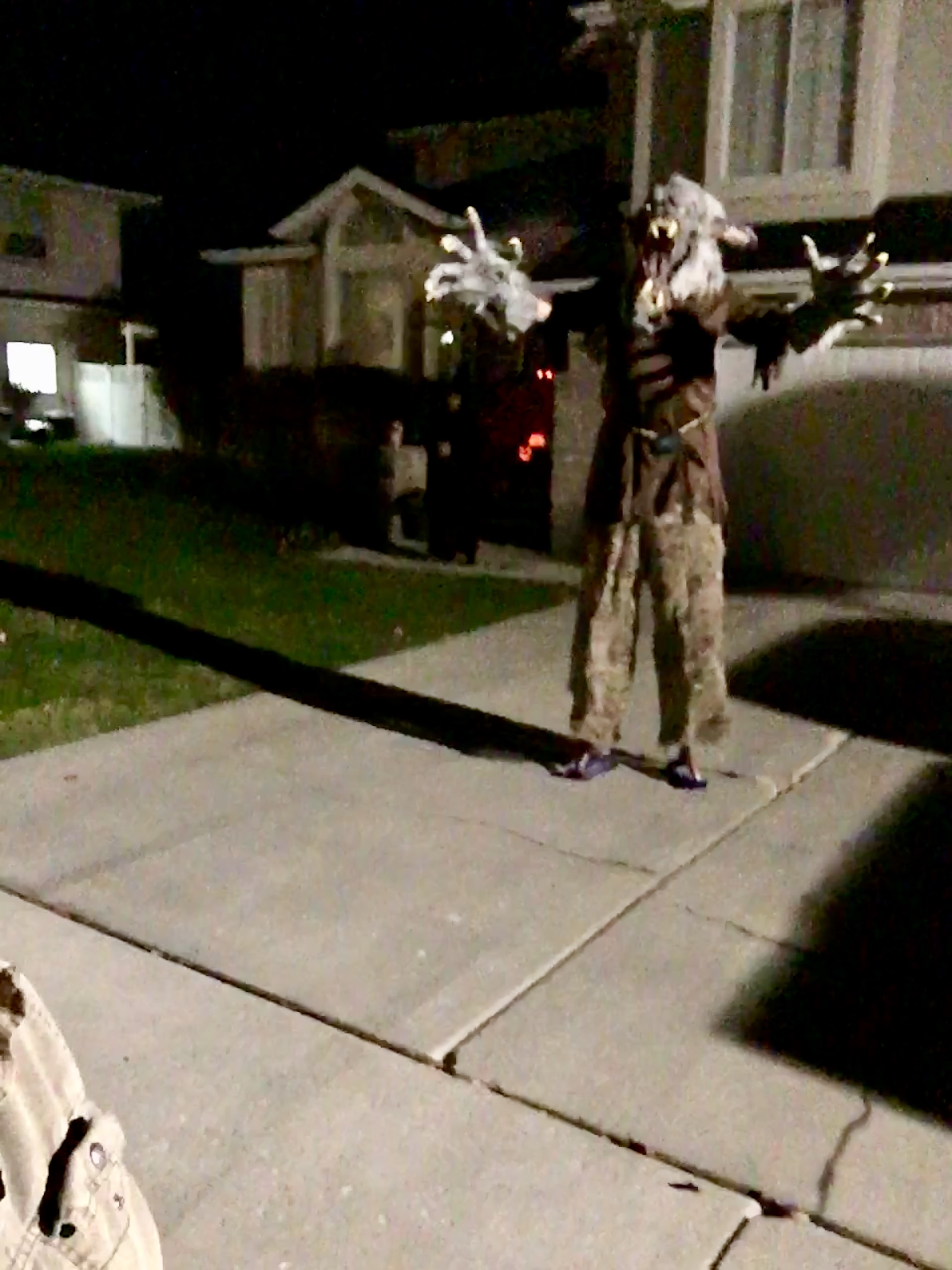 Lucas passed out and was right in bed. While Mirah and Karen checked out all of their candy.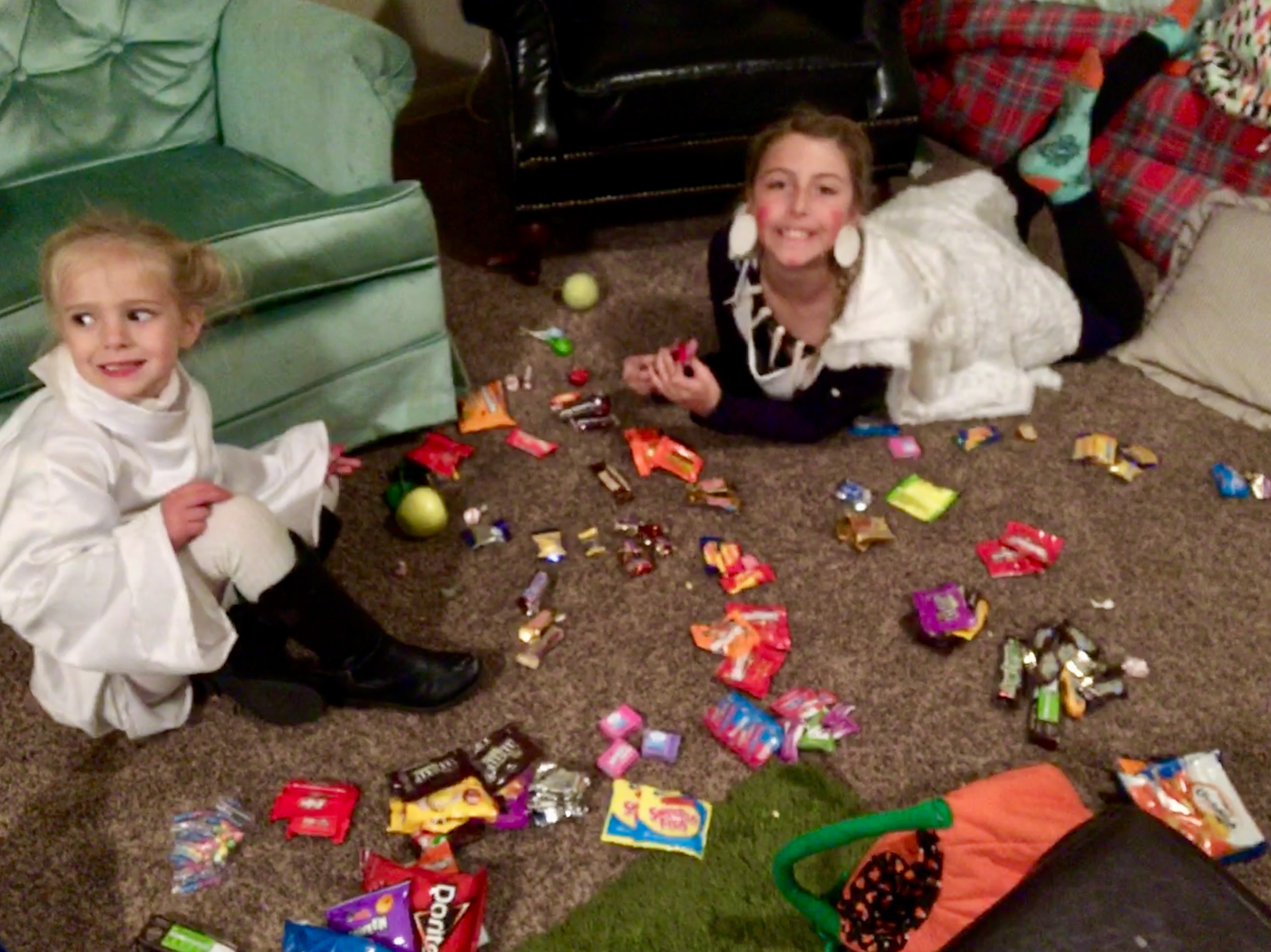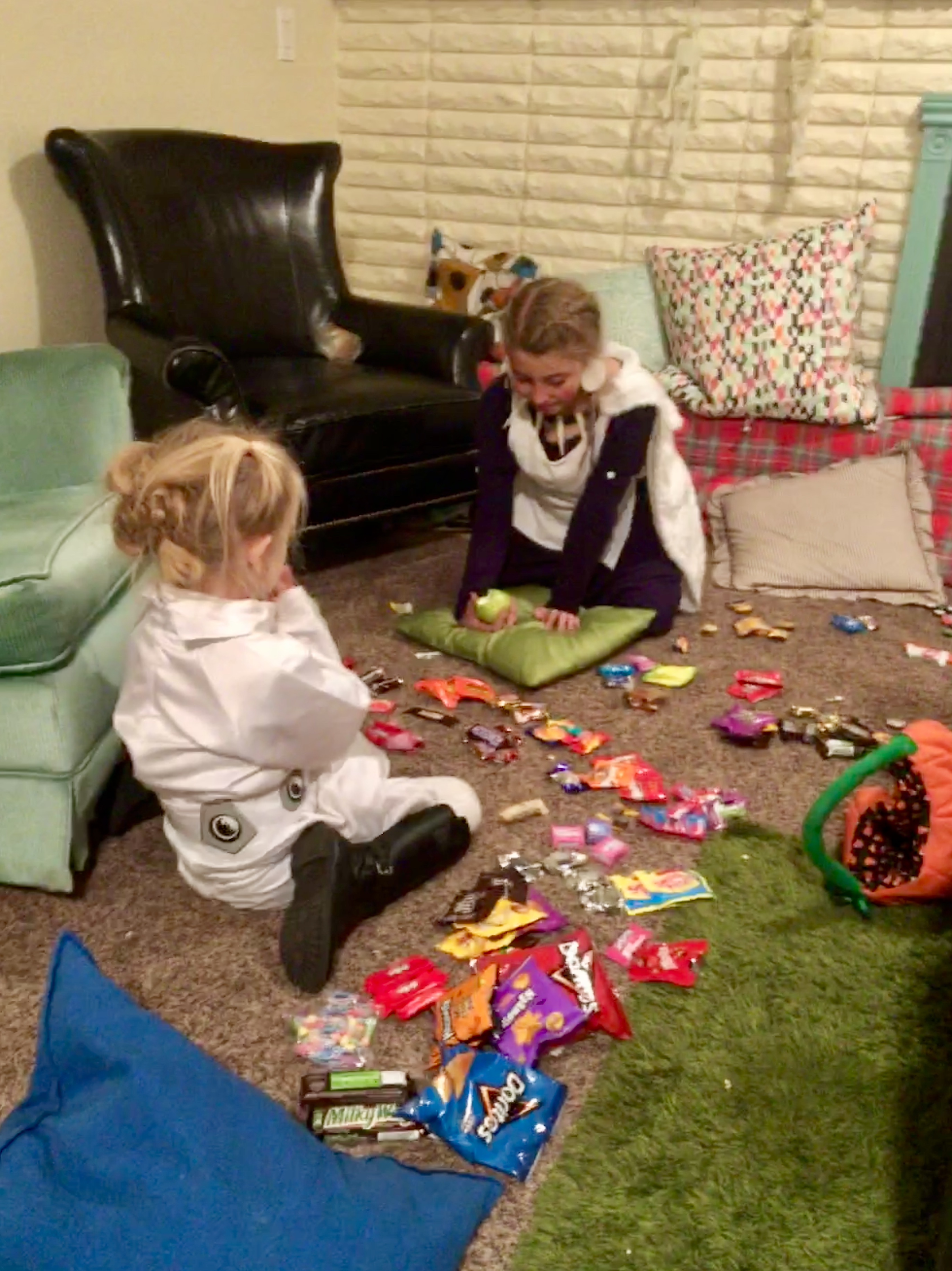 It was a pretty great day, with a pretty great haul.